NWMaxx is a one-knob easy-to-use transparrent maximizer that works as bass booster, too. Unlike a limiter NWMaxx keeps transients natural. It is best used for mastering. Additional prepare feature allows even less distortion by reaching louder volume.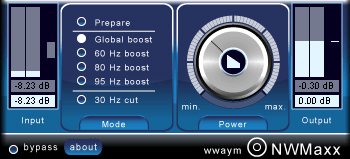 Features:
– Power knob
– Common bass boost
– 30 Hz cut
– Prepare
– Input and Output gain control
– Input and Output VU meters with peak display
WWAYM NWMaxx costs 25 EUR.