Roland is proud to announce the SP-404 is now shipping. Picking up where Rolands popular SP-303 sampler left off, the new SP-404 is built on a foundation of more: more features, more voices, more pads, and more memory. The SP-404 sleek, silver look is new to the SP family, and it surpasses its predecessor by offering battery power compatibility, a CompactFlash slot, and a built in microphone for quick, stress free sampling sessions. Just turn it on, aim, and record no cables and mics to connect. Then get down to the business of making beats and patterns with the pattern sequencer, and add extra color with the great effects built into this little powerhouse.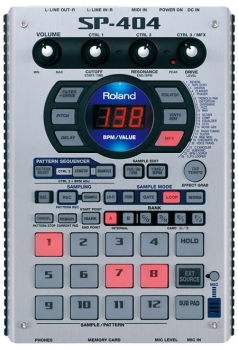 The name Roland is synonymous with "great sound," and the SP-404 doesn't disappoint. The sampling and playback quality of this instrument, affordable as it is, is crystal-clear Compact Disc-grade. For lo-fi lovers, the SP-404 also provides a Lo-Fi sampling mode. WAV and AIF files can be imported and exported via CompactFlash card.
The SP-404's onboard pattern sequencer allows up to 8,000 notes to be recorded. Up to 24 patterns, each 1–99 measures long, can be stored in the internal memory simultaneously. An additional 96 patterns can be saved on CompactFlash cards.
Top-quality effects are built into the SP-404, all under the control front-panel knobs. Featured in the FX menu: Subsonic, BPM Looper, DJFX Looper, reverb, flanger, delay, Voice Transformer, distortion, filter, Slicer, Isolator, Vinyl Simulator, and more. The SP-404's effects can be applied to multiple samples simultaneously or live input signals. Even with all the bonus features onboard, the SP-404 is still amazingly affordable and easy to use.