Roland recently released the CD-2. Whether your goal is to record audio and make CDs to present a performance or composition for evaluation, to advance your playing skills with the help of High Tech learning tools, to preserve and archive important audio, or to capture unforgettable moments like concerts or public events, the CD-2 will do the job quickly and simply and with professional quality results. The CD-2 records directly to CD or onto popular CompactFlash media (up to 2 GB capacity) for hours of recording time. Once recorded, audio can be edited, processed, and burned to CD.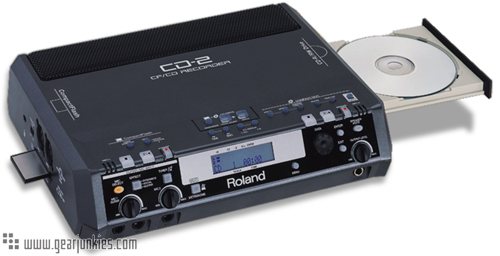 – Easy Recording
Recording is a breeze on the CD-2. A high-quality stereo microphone is built in for top-grade, on-the-spot recording; additional mics can be plugged in as well. The CD-2 records directly onto CDs. The CD-2 also offers recording to popular card (CompactFlash) media, and supports up to 2 GB capacity for approximately six hours of recording time at 16 Bit/44.1 kHz linear mode.
– Edit Your Recordings
When recording to CompactFlash, your audio can be edited using functions such as Audio Level Adjustment, Song Erase, and Trim for cutting out silence between songs. Once you have everything the way you want, you can burn your performance directly to CD.
– Music-Training Support
Students will appreciate the CD-2's usefulness as an educational/practice tool, thanks to its built-in stereo speakers, speed/pitch control, tuner, and metronome.
– Convenient Connections
The CD-2 makes it easy to get audio in and out. For ultra convenience, a stereo microphone is built-in, so all you have to do is point and shoot. Or, if desired, you can plug in external mics with the two XLR inputs, complete with phantom power.
– Onboard Effects
Enhance your recordings with the CD-2's lineup of professional audio effects, such as reverb, EQ, and compression. Make your recordings sound more ambient and lush, or punchy and crisp.
The CD-2 is priced at $799 (euro 645).