When choosing reference monitors for mixing and music production, accuracy is essential. Speakers that sound good on first impression may not necessarily be accurate. What you really need is an honest reference for your mix rather than monitors that have been tweaked or colored to deceptively sound impressive.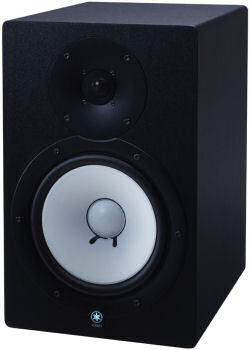 The new HS-series reference monitors have been created by Yamaha's studio monitor engineering team to deliver exceptionally flat, accurate response that you can trust. Unlike "monitor" speakers with exaggerated bass and treble that make a good first impression but can't be relied on for accuracy, the HS series were designed to be true studio reference monitors in the tradition of the legendary Yamaha NS10M.
Whether you're mixing for stereo or 5.1 surround, mixes that sound good on Yamaha HS-series reference monitors will translate accurately to the widest possible range of reproduction systems which is engineer-speak that simply means they'll sound good on anything.
And that is the ultimate goal of any reference monitor. We should also mention that the HS-series monitors not only sound great, they look great, too.
Prices: The HS50M $249, the HS80M $449 and subwoffer HS10W $599. They will be available in October 2005.