Dynaudio Acoustic is pleased to introduce a new small yet powerful speaker for post and broadcast production. BM 5A Compact is an active two-way nearfield monitor that provides a solution for uncompromising quality in very small spaces.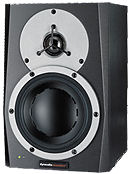 Measuring only 170 x 260 x 235 mm, its small footprint makes it a great solution for OB vans and tight editing bays. The BM 5A Compact will be shipping in September 2005 at EUR 1050 retail ex. VAT per pair.
Through considerable research and development, Dynaudio Acoustics has managed to equip the petite cabinet of the BM 5A Compact with woofers and tweeters of the same high quality as in the BM 5A active monitor, which is nearly two times the size.
Powered by two 50-watts amps and operating within a frequency response of 55 Hz – 21 kHz, the BM 5A Compact covers all professional audio tasks in post production and broadcast, and combined with the BM 9S subwoofer from Dynaudio Acoustics it is an excellent choice for 5.1 monitoring.
BM 5A Compact is characterized by an objective sound image and a well thought out design, setting a new standard for the size/performance ratio within ultra-compact nearfield monitors.