The INSPIRE 1394 is a revolutionary FireWire Recording System featuring professional quality 24-bit/96k analog to digital conversion rate, four simultaneous inputs, software control panel as well as audio recording and production software giving you the smallest, most flexible, most affordable and all-inspiring computer recording studio ever!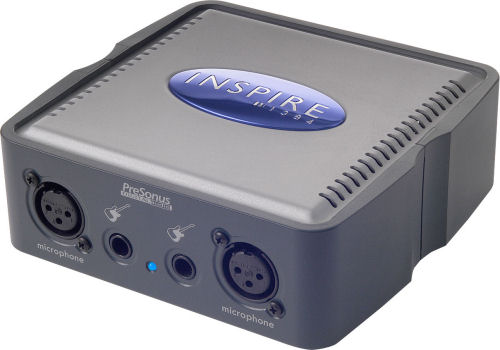 What's Inside
The INSPIRE 1394 is loaded with state of the art components and technology enabling the easiest computer recording experience ever. The INSPIRE 1394 installs effortlessly on both Windows XP and Macintosh-based computers and works seamlessly with virtually all popular recording software including Cubase, Nuendo, Sonar, Cakewalk, Logic, Logic Express, Digital Performer and many others. The microphone and instrument preamplifiers loaded in the INSPIRE 1394 are designed to deliver ultra-low noise, high gain preamplification for all types of microphones and instruments needed for professional quality recordings.
Ins and Outs
The front panel of the INSPIRE 1394 features two custom-designed PreSonus microphone preamplifiers with +48V phantom power and two instrument Hi-Z inputs. The back of the INSPIRE features selectable line or phono (with RIAA filter) inputs great for all types of keyboards, samplers, drum machines and turntables. Outputs on the INSPIRE 1394 include RCA unbalanced and mini TRS jacks as well as headphone output.
Software Control Panel
The INSPIRE 1394 is completely controlled by an easy-to-use software mixer interface called the CONTROL PANEL. Controls include, input gain, phantom power, limiter (off/on), preamp boost (off/on), sample rate, headphone volume, main output volume as well as zero latency input mixing with playback mixing.
This software control panel also serves as a mixer between your computer playback and your inputs for zero latency recording. The software control panel also features LOAD, SAVE functionality so that you can save and recall all of your settings from session to sesson.