CME has just release their brand new intelligent keyboard controller – VX series.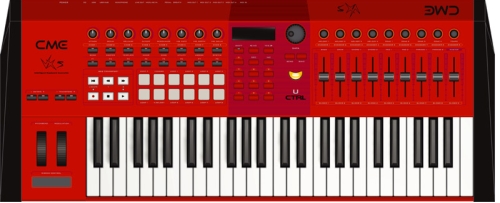 It's the first keyboard with motor fader controller as well as multi-function expansion slot in the world. As the first keyboard with 'PadStyle' intelligent MIDI songs and styles in the world, it is available to update via USB. It's also the first keyboard with unique Game mode, Multi-scale and U-CTRL function in the world.
Not only a MIDI keyboard controller, VX also supplies many unique functions to meet the need of 21 century's new musicians. Firstly, VX supplies both USB MIDI and USB audio functions. Users do not need extra audio interface when they using VX with music software. VX also builds in many MIDI songs and accompaniment in different styles, including loop variation and chord change, which are elaborate made by professional musicians and can be sprung by VX's unique 'PadStyle'.
All MIDI songs and styles can be downloaded from Internet and transferred into VX via USB. VX supplies a brand new Game mode, users could use this function and music books with VX to test their skill of performance, and students could learn many tips in this mode. VX is the first keyboard that has build in muiti-ethical scales in the world, and it will surprise you, no matter you want to play Arabian music of Asian music.
U-CTRL is a brand new concept by CME, it provides the easiest way to communicate between controller and music software. You do not need to load template or presets, just press U-CTRL button and all the controllers for software you may use will be ready.
VX's multi-function expansion slot gives you many option for expanding your VX, including sound module with sample function, analog synthesizer module, firewire audio interface module, digital mixing console module and etc, with these expansion cards, VX will bring you a all-in-one music production platform.
Same as UF series controller, VX uses CME's famous and long-tested professional graded hammer action weighted keyboard (VX8) and semi-weighted keyboard (VX5/6/7) with initial and after touch, velocity sensitive.
These keyboards were broadly used by many famous professional synthesizers and digital pianos in the past few years. VX supplies up to 64 controllers in different types, including motor faders, encoder for data entry, knobs, trigger pads, ribbon controller, buttons, pitch bend, modulation wheel, SEQ transport buttons, pedals, breath controller and all these controllers are programmable.
Although VX supplies many incredible functions, it will still keep CME's competitive price. VX will be the new standard of keyboard controller.