At the NAMM show M-Audio introduced the new line of Midi Keyboard Controllers, called Axiom. The Axiom 25 kicks off the more advanced Axiom line. Built around an even more rugged chassis, the Axiom 25 includes 25 semi weighted velocity sensitive keys with assignable aftertouch, eight MIDI trigger pads, six reassignable transport buttons, 20 non volatile memory locations and more. And for the user that needs more keys and controller options, the 49key Axiom 49 and the 61key Axiom 61 complete the new line.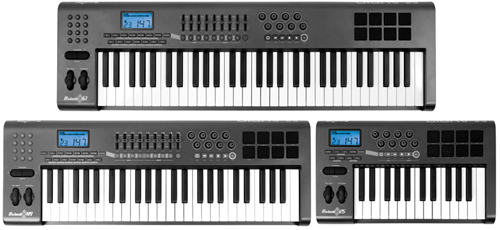 The Axiom series of mobile USB MIDI controllers has everything it takes to get the most from your MIDI software and hardware. Semi-weighted action complete with aftertouch gives you great feel and expression for both synth parts and pianistic passages. Eight rubberized trigger pads put your drums at your fingertips for programming with feel—or easy fire samples or visual effects.
Total MIDI Control – Assign the eight rotary encoders to mixer controls like panning and effects sends, or to any synth parameters you want to control. Map the nine sliders to software mixer faders or drawbars on your virtual organ. 15 buttons (six buttons on the Axiom 25), pitch and mod wheels, and sustain and expression pedal jacks round out a tour de force of MIDI domination. Assigning controllers is simple, yet has the power to let you delve as deep as you want. Each controller can map to just about any applicable parameter in the MIDI spec, including independent channel addressing for each. The possibilities are limited only by your imagination.
Intuitive Front-Panel Programming – M-Audio Axiom MIDI controllers all feature a large backlit LCD screen for visual feedback—and the 61-key and 49-key models also place a 10-key pad right on the front panel for direct, intuitive programming. You'll also find 9 dedicated front-panel function buttons to easily access common operations like preset / program change or MIDI channel +/-, octave +/-, and transpose +/-. Use the Controller Mute button to prevent parameters from jumping when you change them, for example, then press Snapshot to transmit all current settings. 20 non-volatile memory locations instantly save and recall your favorite presets—and you can manage an entire preset library on your computer via SysEx dumps and our free Enigma software editor/librarian for PC and Mac.
Mobile Operation – The Axiom series is extremely compact and lightweight and all models are powered directly from the computer's USB bus. Choose the size that's best for your needs, then take your music anywhere you want to go.
Pricing for the Axiom 25, 49 and 61 is respectively Euro 200, 272 and 315. For more information please visit the M-Audio website.