Mackie today offered a preview of the next generation in recording interfaces at NAMM, the new Satellite FireWire Recording System.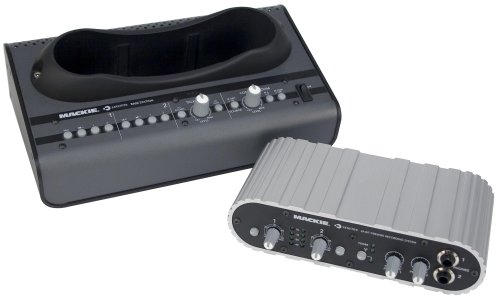 The Satellite FireWire Recording System is an innovative new approach to digital recording, featuring a two-part audio interface designed to get the best out of computer recording in both live and studio environments.
The heart of the Satellite System is the Satellite Pod, a sleek, portable two-channel FireWire interface that incorporates two of Mackie's acclaimed Onyx preamps, as well as 24-bit/96kHz A/D and D/A converters. Additional Satellite Pod features include dual headphone/control room outputs with individual level controls, two inputs, two outputs, and a rugged portable design.
A compelling feature of the Satellite System is the Satellite Base Station, which the Satellite Pod snaps into to provide AC power, additional I/O, talkback and monitor switching functions. By plugging the Satellite Pod into the base station, the Satellite System becomes a two-input, six-output FireWire audio interface with professional features such as an advanced routing matrix, built-in talkback microphone, advanced monitoring functions and surround speaker control.
The Satellite System's two inputs can be switched between mic, instrument or balanced line input sources, and its six-channel volume control provides for surround sound mixing. Its control room section provides for switching between two separate monitor outputs for multiple monitor speaker setups.
Both Mac and PC compatible, the Satellite System works with all ASIO and Core Audio compatible software. It comes bundled with a full version of Mackie's award-winning Tracktion 2 software, providing a complete out-of-the-box recording setup with professional features like a 64-bit high-definition mix engine, unlimited track count, ReWire and VST support, MIDI controller mapping, external synchronization, and integrated support for Mackie Control Universal and C4 control surfaces. Also included is a full set of Mackie's Mixing and Mastering plug-ins.
Mackie Satellite FireWire Recording System Features:
-Innovative 2-piece FireWire Recording System for professional recording to Mac or PC
-Dual Onyx mic preamps for superior sound quality versus competing interfaces
-8 inputs (2 active at any time) for connection of microphones, line sources, and instruments
-6 line-level outputs
-24-bit/96kHz capable sound quality
-Built in control room functions include talkback and A/B monitor switching
-6-channel volume control allows for surround sound mixing
-FireWire protocol for low latency real time recording
-Satellite Pod can be bus powered for field use, or externally powered, for added convenience
The new Mackie Satellite FireWire Recording System will be available Q2 2006.