The AEM-100 is truly a revolutionary DJ mixer. With over 50 knobs buttons and faders all designed to complement your existing turntables, CD players, and media players, this two-channel analog dj mixer is in a class all to itself.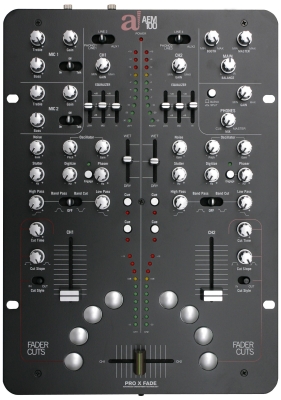 Start with the basics of two sets of meters for PFL and AFL levels, a three-band graphic eq section with bass, midrange and treble sliders for each channel, and a flexible headphone monitoring system to provide the user with many choices on what and how to listen to their cue. Add the following key components:
-Unique knob controlled dual effect section with individually controllable filters and sound generators
-Unique Fader CutsTM for fully adjustable sound transforms and crabs using fast-acting buttons
-Extremely durable Pro X Fade crossfader
-Up to 8 line level inputs, 2 turntable inputs, and 2 microphone inputs
-Balanced Master XLR Outputs
The result is a mixer that is rugged, practical, and fun to use. We are confident you will enjoy this mixer as much as we've enjoyed making it all happen.
The AEM-100 will be available for $499 incl VAT.