Alesis introduces the Trigger I/O percussion interface, a revolutionary tool for bridging the gap between real drum performance and computer-enabled electronic sound. And the Control Pad USB/MIDI Percussion Controller, a compact and versatile tool for expanding percussion options on stage and in the studio.
The Trigger I/O uses electronic triggers placed on traditional acoustic percussion sources, such as drum heads or cymbals, or electronic drum pad triggers, and converts them into MIDI note messages. With MIDI and USB 1.1 Plug and Play connectivity, the artist can expand performance options exponentially: using the Trigger I/O, percussionists can, play sounds on synths, drum modules, or even a computer, without leaving the drumkit.
With ten inputs, the Trigger I/O gives the performer plenty of options. The Trigger I/O's dual zone inputs select two different surface areas of the percussion instrument. For example, hit the center of the snare and it reproduces flawlessly, and a rim shot still cracks like a rim shot. Both the single and dual zone inputs are fully compatible with acoustic and pad triggers from various manufacturers.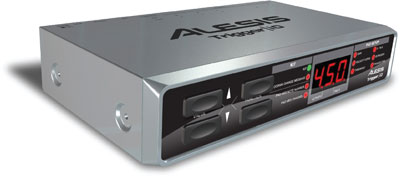 As the latest in a line of innovative new technologies from Alesis, the Control Pad is equally at home as a performance instrument and as a MIDI programming tool for studio recording, giving musicians unprecedented capabilities in a percussion control instrument. Packed with features, the controller is also compact enough to be carried under the arm, providing a single source for performing and programming without requiring an entire arsenal of traditional percussion instruments.
The Alesis Control Pad includes eight durable velocity-sensitive rubber pads, two inputs for connecting additional pads, two for pedal controllers and one for the up/down footswitch, USB Plug and Play connectivity, and the ability to access programmed setups via MIDI Program Change commands. Customizable pad settings allow musicians and producers to tailor pad sensitivity to their individual playing styles. Each pad can also be individually assigned MIDI channels and note numbers.
In addition to the onboard pads, the new Controller also provides two trigger inputs for connecting external pads. Fully compatible with the Alesis Drum Pad and Cymbal Pad expansion kits, these inputs enable drummers and percussionists to customize their systems and create a pad drum kit that can be carried anywhere with ease. The two switch pedal inputs provide the option of an open and close hi-hat as well as kick drum.
The Controller's up/down footswitch input lets players change styles fluidly and quickly. For example, a player can move from an elaborate conga, bongo, and shaker setup to a marimba or trap set in seconds. Similarly, the Control Pad's 20 percussion setups stored to internal memory are accessible via MIDI Program Change commands.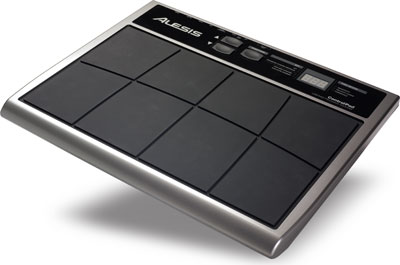 For more information on these new products please visit Alesis.