Akai Professional, the industry standard in modern music production, proudly introduces the MPC500. As the newest addition to the music production center (MPC) family, the battery-powered MPC500 now gives everyone the ability to take this popular compositional tool anywhere they go.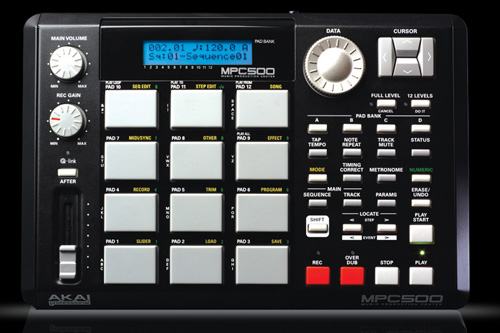 Portable and battery-powered, the MPC500 is further evidence of Akai's market leadership in giving professional musicians and producers products that meet the needs of their increasingly mobile lifestyles. Its unmatched functionality offers drum programming, sequencing and sampling capabilities that allow artists the luxury of creating music on the go in a compact road worthy chassis.
The MPC500 is data compatible with both the MPC1000 and the MPC2500 and includes both line and mic inputs for sampling your own sounds.
Other enhancements include a mass storage-class USB port, which makes it easier than ever to store a massive amount of sample and sequencer data. With the addition of the built-in compact flash drive, musicians and producers will have greater access than ever to all sounds and sequencer data.
Additional functionality includes:
A 32-voice drum/phrase sampler with up to 128MB RAM
Pattern-based 48-track sequencer allowing users to assign a different program on each track or record MIDI data to be sent to an external sound module
Renowned MPC style pressure sensitive pads including 12 levels and full level features
Built-in Analog I/O with switchable Mic/Line inputs, stereo headphone output and MIDI I/O
Support for standard WAV files and MIDI sequences
Internal sounds in flash with on-board stereo and master effects
A low-pass filter with resonance per voice capability
"The MPC500 moves music production technology to a new place, giving the professional recording and production industry a new mobile sense of control," said Jack O'Donnell, Akai Professional CEO. "A powerful, compact unit, our new portable addition to the MPC family gives musicians and producers the ability to sample and create on the go. We are pleased to bring the MPC500 to our lineup of cutting edge musical technologies."
For more information on the MPC500, please visit the Akai website at: http://akaipro.com . The MPC500 has an MSRP of $1,299.00 and is shipping immediately.