The TurboMIDI TM-1 is the first home computer MIDI interface making use of the new Elektron TurboMIDI standard.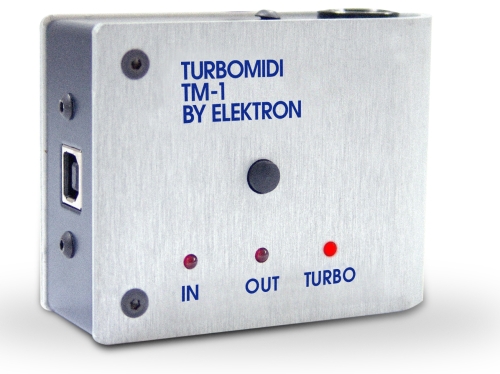 It is a USB MIDI interface capable of increasing the original MIDI bandwidth up to 10 times from your computer to compatible devices. The TurboMIDI standard is an open standard, free for any developer to implement without charge.
The TM-1 is designed especially with the Machinedrum and the Monomachine in mind, but it will work perfectly with any MIDI standard gear. Apart from its classy looks and rugged brushed aluminum and steel construction, the TM-1 allows MIDI timing and bandwidth to be up to 10x more accurate.
The TurboMIDI TM-1 MIDI interface is available now for 79 euros from Elektron Direct Order or Certified retail partners.