Future-proof digital recording is here. With the pristine fidelity and ultimate flexibility of 1-bit technology, the new, surprisingly affordable MR-1000 and MR-1 ensure that your final mixes and location recordings are never obsolete.
Uncompromising, future-proof fidelity at an unprecedented price
Korg's new, super-portable MR Professional Mobile Recorders break new ground by providing high fidelity 1-bit recording technology at unheard of low prices.
The hand-held MR-1 provides high quality 1-bit/2.8 MHz recording and playback, while the mobile/tabletop MR-1000 delivers an astonishing 1-bit/5.6 MHz, doubling industry DSD recording quality standards.
Powerful new software bundled with each MR recorder enables the conversion of your 1-bit recordings and mixes into all of today's audio formats without degradation. Best of all, by archiving your data in 1-bit format you're ready for the future, as playback systems and standards change.
The MR Professional Mobile Recorders are ideal for source recording, podcasting, broadcast journalism including ENG/EFP, as well as archiving final mixes and master recordings.
1-bit technology equals pristine fidelity
1-bit recording is the latest advancement in audio, and has been adopted for use in the critically acclaimed SACD recording format. It offers a frequency response of DC to 100 kHz and dynamic range of 120 dB. This uncompromising fidelity, low noise floor, extended dynamic range, lifelike imaging and analog quality depth has been praised by top experts. But there are other important advantages to the format that are of benefit to all recording professionals, regardless of their tracking platform.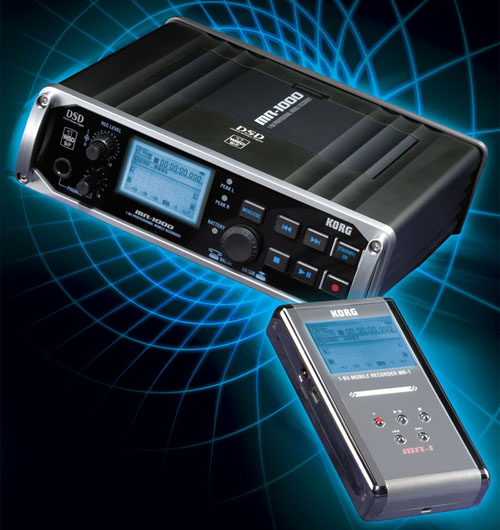 MR-1000
The MR-1000 is the perfect tool for the professional who wants to record and archive their final mixes in the studio, while its compact size and portability make it ideal for location recording. Whatever the use, you get the benefit of capturing it at the new high 5.6 MHz rate. After recording and editing all your tracks in the DAW/hardware system of your choice, you can mix directly, or via an analog summing mixer, to the MR-1000. This gives you the superb fidelity of high-rate1-bit technology, which when transferred to your computer can be converted to the mastering format of your choice thanks to AudioGate. And backing up in 1-bit format "future proofs" your mix for potential reuse in the future.
The table-top MR-1000 includes combination XLR/ 1/4″ input connectors with top quality microphone preamps, phantom power and built-in limiting. Both XLR and RCA outputs are provided for maximum flexibility. High speed USB connectivity allows easy file transfer to and from a computer. The MR-1000 runs on AC power or via AA batteries for mobile freedom.
MR-1
The MR-1 is the ultimate portable 1-bit recorder, perfect for location recording, broadcast journalism, live music performances – even for rehearsals and song-writing sessions. By recording in 1-bit/2.8 MHz format you are assured that your most important, once-in-a-lifetime moments are captured in stunning detail, and ready for whatever the future brings you. And back in the studio it also provides superb final mix and archiving benefits.
The ultra portable MR-1 includes dual balanced mini plug inputs and a stereo mini plug output. It includes a stereo electret condenser mic so the unit can be tucked away and the mic clipped or placed in a convenient location. High speed USB connectivity allows easily file transfer to and from a computer. The MR-1 runs on AC or long-life rechargeable lithium polymer battery.