M-Audio is proud to announce the new NRV10 analog mixer with integral FireWire interface.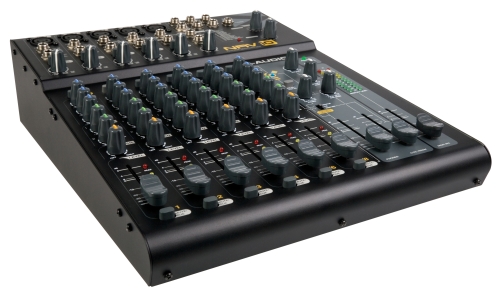 The computer recognizes NRV10 as a 10 x 10 FireWire digital interface, delivering the best of both worlds—digital production with analog control. With the included NRV10 interFX application, users can turn the NRV10 and a compatible Mac or PC into a robust live digital mixer with support for third-party VST effects. The unit also represents the latest family member of the nearly two dozen audio interfaces compatible with Pro Tools M-Powered—and is compatible with most other popular DAW software as well.
Designed as a nerve center for computer-based recording and performance, the NRV10 boasts a professional-quality 8 x 2 analog mixer with a built-in 10 x 10 24-bit/96kHz FireWire digital audio interface. M-Audio's award-winning Octane preamp technology assures best-of-class performance. The four mono channels and two stereo channels of the NRV10 allow users to keep all their favorite instruments, microphones, and other gear connected while working. At any time, each channel can easily and discretely record to individual tracks in audio applications such as Pro Tools M-Powered and Ableton Live 6. Conversely, it discretely returns multiple channels of pristine digital audio to the mixer for CPU-free monitoring, mixing, and processing. (Competitors typically provide only a stereo return.) In-line monitoring eliminates the hassle of changing levels between recording and playback. Two aux buses enable routing to external processors or creating a custom headphone mix.
The fusion of an analog mixer and a digital interface in the NRV10 is also a boon in live performance. Using computer-based tracks on live gigs used to require making and saving software adjustments for parameters like levels, EQ and effects just so everything sounded right. Now, the NRV10 provides easy analog mixer control over direct feeds from multiple computer-based tracks. Musicians can perfect their tracks in the studio, then make temporary tweaks on the NRV10 for live performances. As a bonus, elements like live vocals can run through the same processing used in the original studio tracks. The NRV10 even has built-in digital effects to enhance tracks without the hassle of modifying files.
The NRV10 has many more live applications. Its flexible monitor source assignment can send the drummer a headphone click track—and even lets a DAW's automation change effects and other parameters on the fly live for different song sections. For live dance music, the monitoring section facilitates auditioning material via headphones DJ-style before routing it to the main mix. For soft synth users, the NRV10, a laptop, and an M-Audio MIDI controller are a great way to perform them on stage. The unit is also ideal for making multitrack recordings of live performances and recording different players to separate tracks using an application like Pro Tools M-Powered.
The NRV10 features best-of-class audio performance. Input channels include ¼" TRS balanced line input, phantom-powered XLR balanced microphone input (ch. 1–5), channel/FireWire selector, ¼" inserts (ch. 1-4), gain control, 3-band EQ (80Hz, 2.5kHz, 12kHz), monitor send, effect send, pan/balance, volume fader with peak indicator LED and mute/cue button. The unit also features two mono aux sends and two stereo aux returns. Outputs include both XLR balanced and ¼" balanced main connections. Independent volume is provided for mix, control room, and headphones, and the monitoring section includes the ability to pre-listen or audition cues before committing them to the main mix for live dance music.
The unit also features a built-in effects section with 16 effects, allowing users to unburden the computer for basic effects—especially handy live or when practicing. The effects include reverbs, delays, rotary speaker, flanger, chorus, tremolo, and more, plus variations, mute, and peak LED.
In addition to the onboard effects, the included NRV10 interFX software turns the NRV10 and a host Windows or Mac computer into an even more powerful mixing console complete with multi-effects processing. The application adds a compressor, expander/gate, and two VST effect slots to each mixer channel—letting users process live instruments and mics with their favorite computer-based effects. Users can save and recall all settings.
"The NRV10 is the missing link for computer-based recording," says Adam Castillo, marketing director at M-Audio. "It enables musicians to move seamlessly between writing, recording, practicing, editing, and mixing without needing to change cabling or connections. Its ability to return multiple channels of digital audio from the computer also makes it a breeze to take studio tracks to the stage. NRV10 interFX even lets you use your favorite VST plug-in effects live. And compatibility with Pro Tools M-Powered represents our ongoing commitment to providing musicians with complete, synergistic solutions."
The NRV10 is currently expected to ship in November at an MSRP of $899.95.