NWEQDJ is a 3 band equalizer VST effect plugin, especially designed for live and DJ use.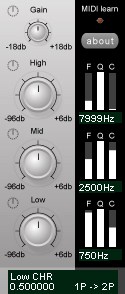 However NWEQDJ has no compromise in sound quality it can also be used in a studio session when a 3 band easy to use EQ is needed.
Main Features:
– High quality filters with two different characteristics
– Assymetric band gain control knobs (-96dB – +6dB)
– 0 dB is at the knob's center position (which is very convenient for live usage)
– Additional center buttons
– MIDI learn for gain and band knobs
– 16 Presets
– Parameter finetune with right mouse button
– Interpolated gain knobs
The software can be used in two modes, unregistered (free) and registered (35 EUR):
– 3 fixed bands if unregistered (band settings are only available through presets)
– 3 parametric bands if registered (with frequency, quality and characteristics sliders)
The plug-in is usable in unregistered state (no timed noises or silence or other disturbing effects).