Belkin has introduced the TuneStudio, a four-channel audio mixer that allows users to create digital recordings directly to a fifth-generation iPod.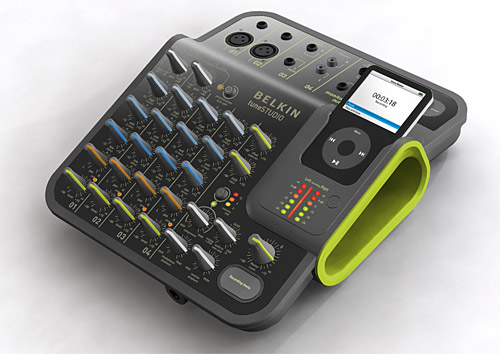 The mixer accepts up to four different instruments or audio sources, and records the audio to the iPod in 16-bit, 44kHz stereo quality for instant playback; each source has a 3-band equalizer, pan and level controls, and the system offers microphone gain and makeup gain features attenuated to the iPod's recording needs. According to the company, it can also serve as an external USB sound card for PCs or Macs, allowing PC source audio input and output to a PC from any of its inputs, as well as streaming audio over a USB connection.
"TuneStudio is compact, portable, and tough enough to withstand life in a rehearsal room or in a garage," says Belkin. "Bands can easily attach instruments and microphones to TuneStudio and record jam sessions directly onto an iPod. Podcasters can also use this device to record their shows either in a studio or on location." Belkin said the TuneStudio is expected to be released this summer, priced at $180.