Roland is proud to announce the new EDIROL M-16DX Digital Mixer. Together with powerful effects onboard, an intelligent Room Acoustic Control function, and loads of digital and analog connectivity, the M-16DX signals a new era in digital mixing.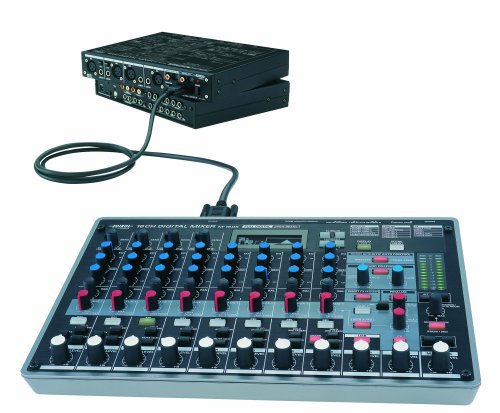 The M-16DX contains a powerful 24-bit/96kHz digital processing engine that provides a transparent, noiseless mixing foundation. Experience the power of accurate, detailed digital mixing, and at a price you can afford.
The M-16DX is a new-generation mixer comprising two modules: the Mix Controller for your desktop, and the I/O Module, which can be mounted in a rack. Together, these two components provide a wide assortment of connection and processing features, while leaving your desktop uncluttered.
A full-featured DSP effects processor is built into the M-16DX, with insert effects (Power Compressor, Vocal/Narration Enhancers, and Voice Change), spatial effects (Echo, Space Echo, and multi-format Reverb), and mastering tools (Noise Suppressor, Enhancer, and Multiband Compressor-Limiter). In addition, each channel strip is equipped with Low-Cut Filter, 3-Band EQ, Pan, Aux, Select, Solo/Mute, and Level controls. Scene memories, allow for instant recall of channel and effect parameters.
In a portable mixing first, the M-16DX features a high-contrast, backlit LCD that lets you to see the effects in operation, as well a spectrum analysis of your mix! Also onboard is the intelligent Room Acoustic Control function, which automatically analyzes and compensates for the frequency response of your studio. It's fast, easy, and effective.
Digital and analog connectivity — it's all here, and more. Channels 1-4 contain quality mic preamps with phantom power; channels 1 and 2 also offer Hi-Z switches for directly connecting guitar and bass. Channels 11 and 12 provide direct digital input via S/PDIF optical. And most impressively, USB 2.0 port allows the mixer to work as a powerful 18-in/2-out 24-bit/96kHz audio interface for computer recording.
More portable and affordable than its M-16DX big brother, the M-10DX 10-channel digital mixer packs an amazing amount of high-end features into its small frame, including a 24-bit/96kHz processing engine and a backlit LCD so you can see the effects in operation as well a graphical spectrum analysis.
This all-in-one solution offers built-in pro-quality FX, including insert effects, reverb/echo and finalize effects, flexible analog and digital I/O, Room Acoustic Control" for instant automatic room compensation.
Based on the same high-resolution processing engine as the flagship M-16DX, the M-10DX provides full 24-bit/96kHz processing for the ultimate in transparent, noise-free digital mixing. Mixing is made simple, with dedicated channel controls for 3-Band EQ, Pan, Aux, Select and Level. Scene memories allow instant recall of channel and effect parameters.
For maximum portability, the M-10DX condenses almost all of the M-16DX's functions into a compact tabletop package for easy portability and use anywhere. It even retains the backlit LCD from its big brother, so you can see the effects in operation as well a graphical spectrum analysis.