Yamaha have expanded their MG range with four new models. The new additions feature the same compact, lightweight design as the preceding models, and, say Yamaha, incorporate the latest generation of specially selected components for further refined performance and audio precision.
Small but Sophisticated – These new MG mixers are lighter and smaller than ever while offering some innovative new features.
The MG102C and MG82CX are ideal mixers for basic music production or live sound applications that require high sound quality from a relatively small number of input sources. Both models are remarkably compact and lightweight, but no compromises have been made in sound quality. They even have built-in channel compressors that, although easy to operate, can significantly enhance the quality of your mixes. An optional adaptor allows these mixers to be mounted on a microphone stand for easy access and convenient positioning on stage. The MG82CX additionally features top-quality SPX digital effects built in, so you won't need any extra equipment for many applications.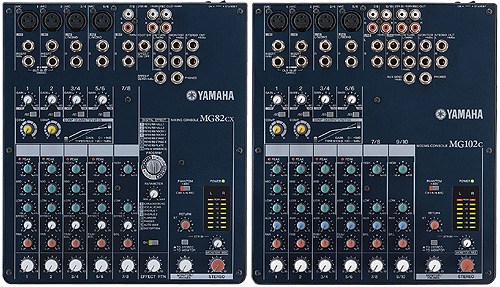 Extended Capacity and Versatility for Studio or Stage – The new mid-range MG series mixers offer refined looks and features in a lighter, smaller package.
The MG124C and MG124CX fall comfortably in the middle of the MG mixer lineup, and deliver sound quality and advanced features such as channel compression that are unrivalled in this class. You can choose either model with confidence for a wide range of amateur or professional applications: the MG124C if you don't need effects or already have effect gear you want to use, or the MG124CX if you want the sonic and space-saving advantages of high-performance SPX digital built in.