Jordan Rudess of Dream Theatre is collaborating with Rod Morganstein, the legendary Dixie Dregs drummer, to perform live on stage at Sound Control, Oxford Street, London on Monday April 2nd at 6:30pm, using Rolands revolutionary new V-Synth GT and the latest in V-Drum technology.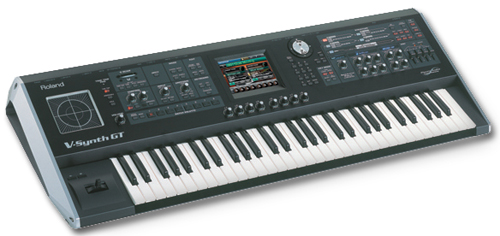 Roland announced their new flagship V-Synth GT Synthesizer at NAMM earlier this year. Combining the V-Synth's famous Elastic Audio Synthesis engine with revolutionary new Articulative Phrase Synthesis technology and never-before-heard sounds, the new V-Synth GT's expression and realism is second to none.
The V-Synth GT is the first synthesizer in the world equipped with AP (Articulative Phrase) Synthesis. This revolutionary form of modelling recreates the ever-changing behaviour, nuance, and sound of an instrument as it's being played. AP Synthesis can use both acoustic and synth waves to create stunningly expressive results, and can be applied for realistic acoustic instrument simulation, as well as sounds never heard before.
By integrating a new dual core V-Synth engine, the V-Synth GT can combine Elastic Audio Synthesis, Vocal Designer Technology and AP Synthesis in real-time. Roland's proprietary VariPhrase technology is also integrated into the V-Synth GT. Together with its analog-modelling engine, external audio input, and digital sampling architecture, the V-Synth GT provides an incredibly wide and colourful foundation on which to capture, manipulate and create sounds.