Brand new from Novation is UltraNova, an analogue-modelling synthesizer designed for everyone: from first-time synth purchasers to keyboard addicts. Its powerful and deep sound engine is tailored to be easy to use, and it offers new and utterly unique performance features.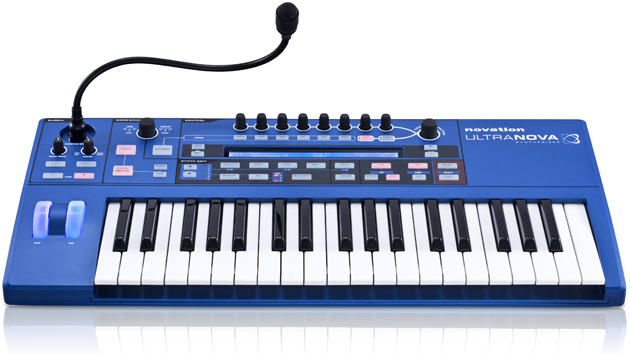 Carrying the Nova name, UltraNova is the next generation of Novation's iconic synth family, which brought you the legendary SuperNova and SuperNova II. It has a 37-note Fatar keybed, illuminated pitch and modulation wheels, eight assignable touch-sensitive rotary encoders, a 144-character LCD, and a large knob for fine control of parameters. Under the hood, UltraNova's arpeggiator, vocoder and USB audio interface make it incredibly useful for today's music makers, and bus powering lets you put it at the centre of your stage or studio rig.
UltraNova's single-part synth engine can employ wavetables alongside conventional subtractive synthesis. It has three oscillators with density and detune controls, two ring modulators, a noise source, two filters, six envelopes, three LFOs, five assignable effects slots, and much more. On-board effects include distortion, chorus/phaser, delay, reverb, and gator plus compression and EQ. Its intuitive top-panel layout helps to make tweaking UltraNova's parameters simple, with dedicated buttons providing quick and easy navigation. What's more, a free plug-in editor provides easy access to the synth's controls and patches (300 factory-loaded, 200 user), from within your music software.
UltraNova's secret weapon is its Touch feature, a unique system that brings a new level of performance control to synth players. Hit the Touch button and the eight encoders become receptive to finger contact. These touches can control modulators and envelopes within the synth engine, so dramatic modulations can be performed with the touch of a finger. With the corresponding Tweak feature – which allows you to group your favourite parameters to the rotary controls for on-the-fly patch manipulation – and a large knob for extra-fine tweaking, you literally have total control of the synth at your fingertips.
KEY FEATURES:
– Brand new, single-part synth engine with up to 18 voices, 14 filter types, 36 wavetables and five effect slots.
– Eight assignable touch-sensitive rotary controllers, with one large knob to instantly give you fine control of any parameter.
– Touch and Tweak controls enable totally new sound-shaping and performance options: Trigger envelopes, LFOs, filters and effects just by touching the encoders.
– A tried and tested, stage-ready 37-note keybed with aftertouch, bus power from USB, a 12-band vocoder (with included dynamic gooseneck mic), and loads of controls makes UltraNova the perfect stage or studio synth.
– Free software plug-in editor gives you full visual editing control. The included Patch Librarian lets you organise, store and share unlimited patches.
– Built-in two-in, four-out USB audio interface. Stream high-quality audio to and from a host computer and control your monitor mix, all from UltraNova.
– Full connectivity for stage and studio. Balanced line-level and stereo S/PDIF outputs, plus MIDI In, Out and Thru ports.
UltraNova will be available towards the end of Q4 2010. Prices will be as follows: UK: RRP £587.49. Estimated street price £499.99, Europe: UPE €679.99. EST €599.99