Elektron has started to unveil more and more details with weekly updates. Just to prepare us for its final release … Below you will find week four and week five, new Octatrack features: LFOs and the LFO designer and Slice Points.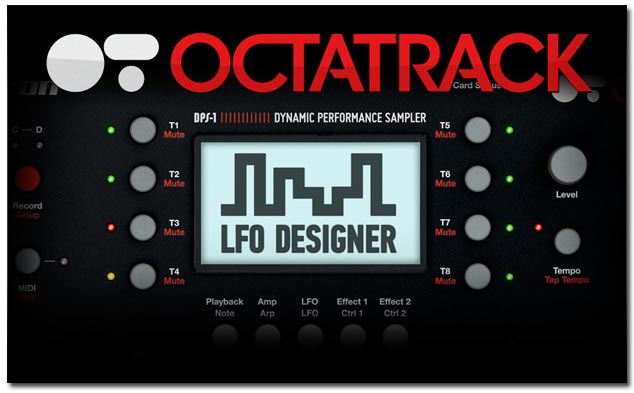 Track LFOs
The Octatrack has plenty of LFO power under the hood. All internal tracks have three dedicated tempo-synced LFOs at their disposal, meaning 24 LFOs in total are available. The LFOs can be assigned to a wide range of parameters and are useful for adding movement and evolving changes to samples. The LFOs can be set to eleven basic waveforms plus eight LFO designer waveforms.
The LFO designer
The LFO designer allows for customized LFO waveforms. An LFO designer waveform consists of 16 steps where each step can have a manually set value. The steps can be either interpolated or stepped. LFO designer waveforms are very versatile and can almost be regarded as mini-sequencers. They can for example be used to make rhythmic track parameter changes or, when modulating the start point of sampled drum loops, function as instant remix tools. Each track contains an LFO designer and all designed waveforms are available for all LFOs.
The audio editor
The audio editor is where editing of imported or recorded samples takes place. The sample waveform is displayed graphically in the audio editor and for precise interaction waveform zoom and zero crossing search commands are available. A number of tasks are carried out in the audio editor. Trimming, loop point settings, normalization and, maybe most important of all, slice point handling.
Slice points
Slice points are markers that offer a flexible way of dividing a sample in different regions. Set the slice points either automatically by transient detection or manually by using the data entry knobs. Once the sample is sliced parameter locks can make different steps of the sequencer play back different sample regions. In the audio editor it is even possible to customize or randomize the playback of slice points. Keep shuffling the slice points around until the perfect loop is obtained. Slice points make it easy to break down samples and restructure them from the ground up.