E-MU Systems has announced the release of their new 0204 USB, 24-bit digital audio interface for the Macintosh and PC. The 0204 USB is the successor to E-MU's celebrated 0202 USB 2.0 adding another pair of 24-bit outputs and improving the already outstanding audio specifications.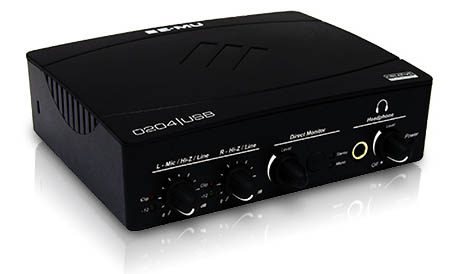 "The 0204 USB has to be the best audio bargain out there right now," says Michael Lee, marketing manager for E-MU Systems. "The outputs have a signal to noise ratio of 117dB with 0.0008% distortion. The numbers speak for themselves. Specifications like these usually cost $1000 and up."
The headphone outputs are of the same high quality as the main outputs and can be used as two completely separate channels for a total of four. The E-MU 0204 USB is compatible with Macintosh OS X, Windows 7/x64, Windows Vista/x64, Windows XP.
The E-MU 0204 USB 2.0 features:
– Premium 24-bit/192kHz A/D and D/A converters * (A/D: 113dB SNR, D/A: 113dB SNR) delivering you a pristine recording/capture and playback experience
– Ultra-low noise Mic/Hi-Z/Line preamplifiers with ground lift switches enable you to record microphones, keyboards or guitars directly into your computer delivering professional results (XLR, 1/4" TRS, and 1/8" 5V condenser mic input)
– Ultra-low latency USB drivers offer accurate timing and playback of your recorded audio and expressive control of your software instruments
– Independent headphone DAC path to enable separate playback and cueing for DJ applications
– Hardware zero-latency direct monitoring (mono/stereo) allows you to record and overdub with no timing delays
– Plug-and-play operation with hands-on control of all major functions like direct monitoring level, headphone level, and preamplifier gain to streamline your creative process
– Driver compatibility with most popular audio/sequencer applications letting you work with your choice of tools – (Windows XP (SP3 or greater), Vista/x64, Windows 7/x64:ASIO2 and WDM; Macintosh OS X (10.5 or greater): Apple CoreAudio)