Duet 2 is built upon 25 years of Apogee Research and Development. Using cutting-edge components and a state-of-the-art user interface, Duet 2 is the most advanced portable recording design available. A full-color OLED display is only the beginning. Duet 2 features balanced outputs, independent speaker and headphone outputs, configurable touch pads and what many thought impossible, improved sound quality. Duet 2 can record from sampling rates of 44.1 to 192kHz.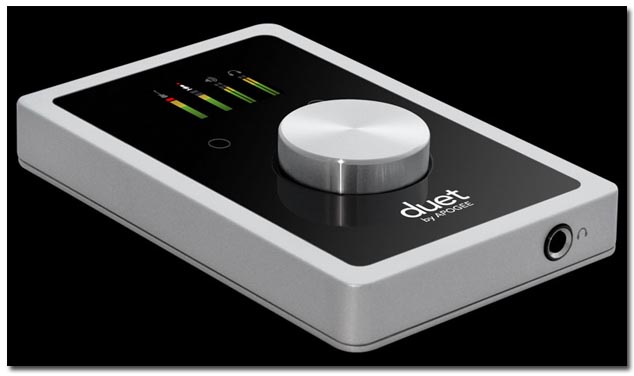 Duet 2 is based upon the unprecedented research which made Apogee's flagship interface, Symphony I/O, a reality and the finest I/O in the world. Duet 2 with USB connectivity features extremely low latency, higher sampling rates and incredible sound quality.
No matter where your creativity takes you, Duet 2 is the best solution for recording music to a Mac. With a new breakout cable design and optional breakout box, Duet 2 is even more streamlined than the original. Duet 2 will transform your Mac into a professional recording studio. World-class microphones are completely at home, sounding absolutely amazing when connected to Duet 2's Mic-Pres. When it's time to mix, Duet 2's output quality lets you hear your recordings with incredible detail as you put the finishing touches on your musical projects like a pro. Duet 2 sounds so amazing, you won't want to listen to your iTunes library without it.
"We are very excited to announce Duet 2," says Apogee CEO and Co-Founder Betty Bennett. "Apogee's Duet completely changed personal recording and Duet 2 continues in the same tradition which is so central to Apogee; elegant design and amazing sound."
Duet 2 Highlights
Completely redesigned mic preamps and converters
4 outputs, Independent speaker and headphone outs
Balanced outputs
USB 2.0 high speed connectivity
24-bit/192kHz recording
Full color OLED display
Configurable touch pads
Maestro 2 software
Breakout box (sold separately)
Redesigned Breakout Cable
Soft Limit
Features & Specs
USB 2.0 Mac audio interface
2 Combination Line/Mic/Instrument inputs
2 Balanced line outputs, +20 dBu maximum output level
1 Independent 1/4″ stereo headphone output
2 Microphone preamps with up to 75dB of gain
A/D and D/A Conversion at 24-bit/192kHz
Top panel high resolution OLED display
Multi-function controller knob
Two assignable top panel touch pads:

Mute speakers, headphones or all outputs
Assign headphone to outputs 1-2,3-4 or low latency mixer
Dim speakers, headphones or all outputs
Sum to mono speakers, headphones or all outputs

Selectable 48v phantom power, Soft Limit and phase invert
Pricing and Availability:
Price: $595 USD
Availability: April 2011