MXL Microphones, the Pro Audio Division of Marshall Electronics, has broadened its collection of high-end studio recording microphones with the introduction of the GENESIS II Dual Diaphragm Tube Microphone. The GENESIS II employs the best features of the original GENESIS, with the addition of a patented new feature that allows you to choose a tonality that best captures all of your material. This feature is ideal for all voices and instruments and is sure to be revered for its attention to studio quality.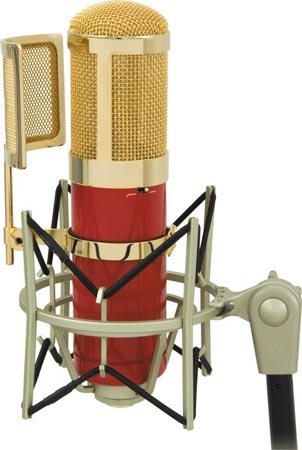 The GENESIS II takes the first generation GENESIS to a new level of excellence. Possessing all the outstanding features of the original GENESIS, the GENESIS II has the added feature of a dual diaphragm and patented warm and bright switch, which allow you to change the tonality of the mic to suit your application. The GENESIS II also includes the celebrated vintage, new old stock Mullard 12AT7 vacuum tube, which is hand-selected and burned in for days prior to shipment, ensuring the highest quality.
Award winning recording professionals and musicians have praised the GENESIS for its clean highs, warm mids, and tight bottom-end. In addition to the new patented dual capsule and switch, the GENESIS II also includes a 100 Hz 6 dB octave roll-off switch for suppressing undesired structure-borne sound and -10 dB pad that enables the mic to handle high SPLs.
"MXL has a reputation for making excellent quality mics that people can afford," concludes Jim Mona, National MXL Sales Manager. "GENESIS II places us in a specialized category of ultra high-end, ultra high performance and you don't need a loan application to own it."
Like the GENESIS before it, GENESIS II sports an eye catching candy apple red finish and 24K gold-plated grill. The package includes a power supply, heavy-duty shockmount, a gold metal mesh pop filter, an XLR Mogami® mic cable and a 7-pin Mogami® cable. Each GENESIS II mic is serialized and supplied with QC verification of excellence documentation.
The Genesis is available at a street price of $899.00.