ALVA presents the Nanoface: Sound quality, extraordinary features and ease of use, real analog hardware monitoring and low latency drivers for Windows and Mac OS X – all together in an awesome design housing.
The Nanoface provides 6 audio I/Os – more than enough for a small home studio, a DJ- or surround setup. A MIDI input and two MIDI outputs form a perfect combination to connect a keyboard and external synthesizers or samplers.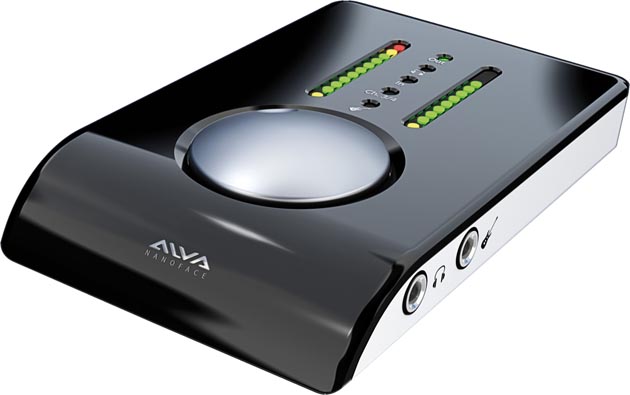 Four analog inputs – two of them equipped with high-quality mic preamps with phantom power – allow the simultaneously recording of different sources at the same time, like a microphone, an electric guitar and a synthesizer. The Nanoface provides an Hi-Z instrument input – routable to any of the four analog inputs. Optimal for spontaneous jam sessions with a notebook or as mobile recording station without the need for more equipment – live or with band rehearsals.
Four analog outputs with excellent specification numbers and an extraordinary audiophile sound provide a flexible setup for monitoring two stereo signals at the same time, e. g. with main speakers and headphones. The signal from output 1/2 can be routed to output 3/4 and individually adjusted.
The digital I/O works in standard SPDIF format. This makes the Nanoface the perfect partner for a digital signal from a CD player, or an effect unit as a source for a surround receiver with digital optical input.
The Nanoface lives up to its name – it measures only a quarter of the size and provides more inputs and outputs than some bigger interfaces. In doing so it´s light as a feather. The elegant gloss black housing weighs less than a key in your pocket.
The Nanoface is the perfect solution for musicians or DJs, who need a complete recording studio not only at home, but also on the road and want to compose or mix music in quality they are accustomed to, or just want to listen in the best possible headphone quality. It only needs one USB 2.0/3.0 connection, to transfer all audio and midi data in and out of the computer. The Nanoface works completely with the power from the USB connector. It does not need a power supply.
The Nanoface is easy to operate. All features – including managment, monitoring, phantom power for the microphones – can be adjusted with the big multi controller directly on the unit.
This results in a simple learning curve and extraordinary usability – ideal for live situations.
Sensible downsizing, reduction to the max – with total funtionality.
Connectivity:
Audio: 6 inputs + 6 outputs
MIDI: 1 x input + 2 x output
4 x analog I/O (channels 1-4)
Digital optical SPDIF I/O (channels 5-6)
2 x Mic preamps including phantom power (analog inputs 1/2)
1 x Hi-Z instrument input (alternatively usable instead of analog input 1-4)
The Nanoface will be available in June 2011.