The Focusrite Control 2802 is a small-format analogue recording console and a DAW control surface in one. It forms both the digital control nerve centre and the analogue heart of the modern professional project studio. Dual Layer Technology lets today's studio owner jump between analogue mixing and DAW control.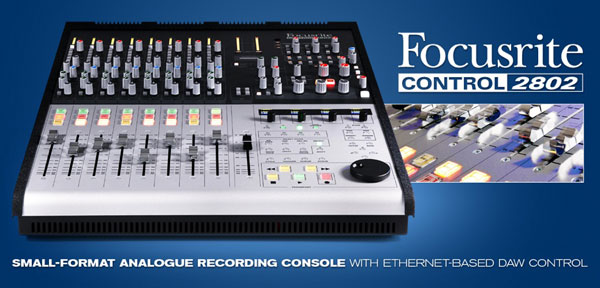 In a single surface, the Focusrite Control 2802 integrates state of the art summing, comprehensive monitoring and a pristine front end, with sophisticated control over every major DAW. Eight transparent class-A microphone preamplifiers, parallel VCA bus compression and ultra low-noise circuitry throughout form a solid analogue foundation for your sound. Ethernet-based DAW control places your favourite music software at your fingertips. The Focusrite Control 2802 brings you the flexibility and elegance of a fully specified studio console, in a single desktop package.
Key Features:
Transparent Class-A microphone preamplifiers.
Extra high bandwidth and low noise discrete transistor preamps, with channel inserts and direct outputs from anywhere in the signal path to give ultimate routing flexibility. Fully automatable in both analogue and digital layers.
Stereo mix bus compressor with parallel compression.
Powerful, punchy dynamic control with in-built parallel compression. Patchable across other channels, or extendable with external compressor connections.
High-end analogue summing mixer.
Carefully crafted circuitry adds stunning analogue magic to your mixes. Take creative control over your music with mixing at your fingertips and hear the benefits of an extended frequency range – super high bandwidth at over 120 kHz.
32 inputs to mix within a natural analogue workflow.
8 analogue channels, switchable between mic, line and DAW, plus 8 alternate inputs with gain and pan control. 8 summing inputs in 4 stereo pairs. Stereo FX and auxiliary returns. Main and DAW mix stereo returns.
Fully featured master section.
Unparalleled monitor control taken straight from a large studio console. Fully featured range of monitoring options, including numerous solo, polarity inversion and mono listening modes.
Comprehensive Ethernet-based DAW control layer.
Effortlessly navigate round your DAW from the console with Dual Layer Technology. Integrated control of plug-ins, auxiliaries, automation and project navigation.
Unrivalled routing options.
Easy analogue patching lets you use the Focusrite Control 2802 to its fullest. A wealth of routing options offers myriad possibilities for your studio workflow with six auxiliaries complementing the stereo mix bus.