Elixir is a novel kind of program limiter carefully designed to accomplish a truly pure natural sounding result without altering the nature of the audio material and its timbre.
Intended to fulfil the requirements of the broadcast, post-production and mastering industry, Elixir provides real True Peak output level in accordance with the ITU-R.BS 1770 and EBU R128 norms, and for surround/multichannel operation Elixir provides up to eight channels of simultaneous processing.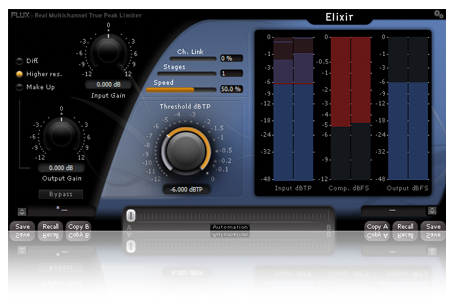 User Interface And Workflow
Elixir's straightforward interface makes it exceptionally easy to achieve great results, even under a tight deadline. Simply set the input level, adjust the Threshold according to the amount of limiting desired, and finally enable Make Up for gain compensation and loudness addition – That's it!
For truly delicate and fine processing tasks (mastering etc.) Elixir presents a new innovative concept called Stages, providing the option to set the algorithm to perform the limiting processing in multi-stages, in order to achieve even more precise and natural sounding results.
Example: If the threshold is set to -3 dB and the 'Stages' parameter set to 3, the first stage will limit at -1dB, the second stage will limit at -2dB and the third will limit at -3dB, with analyzing performed in each of the three stages.
Processing
The algorithm uses an oversampled representation of the audio sample as reference when defining the gain envelope, while the actual processing is applied only to the original none oversampled data, in order to reduce artefacts (like aliasing) and to achieve the most precise and excellent sounding result presenting none, or effectively reduced, conventional limiting pumping effects even during heavy processing.
In addition to Stages, Elixir present the option to run the algorithm in a higher resolution mode with even more detail put into the processing, obviously, at the cost of additional CPU-consumption.
Great Introduction Offers!
During the release of Elixir Flux offer You great deals on both Elixir, bundles that from now on include Elixir, and upgrade paths towards the updated bundles. For more information, see the Flux:: online store or visit your local dealer.