The Steinberg UR28M is next to the UR824, one of the latest USB audio interfaces by Steinberg. This interface has a very clear overview and is pretty easy to use in your setup. In this review I will focus on the most important features of this interface.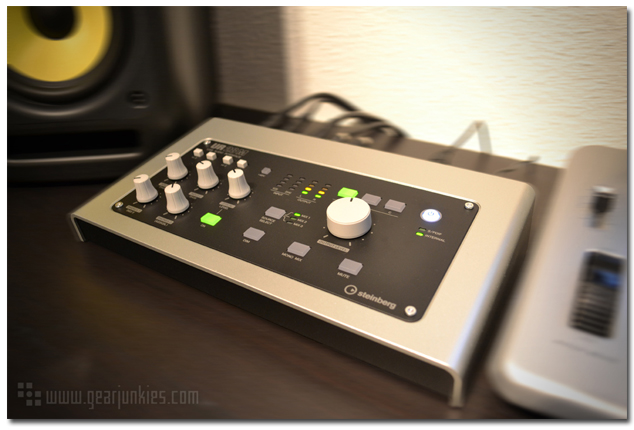 First Impressions
One of the first things you will notice when taking it out of the box is its weight! With nearly 1,4 kilogram this baby is quite heavy. That means however that it feels robust and solid, a feature I personally prefer. The interface is made out of metal with synthetic (plastic) bits.
In the box you'll find, amongst others, the manual, the installation software (mac and pc), a USB cable and a power adapter. Unlike the CI series by Steinberg you do need this power adapter. The UR28M is not USB powered!
Steinberg ships this interface with Cubase AI 6, so you can start producing music right away. Of course the UR28M connects and works perfectly with other DAW software and can be used to listen (just) to music from your computer as well!
INs & OUTs
The UR28M has no less than six balanced 1/4″ TRS Outs, four analogue INs and six out plus stereo input for reference source and D-Pre class-A mic pre-amplifiers, two combined CLR/TRS OUT/INs, S-PDIF IN and OUTs and two 1/4″ headphone connections. All in all, that's a lot possibilities for such a compact interface!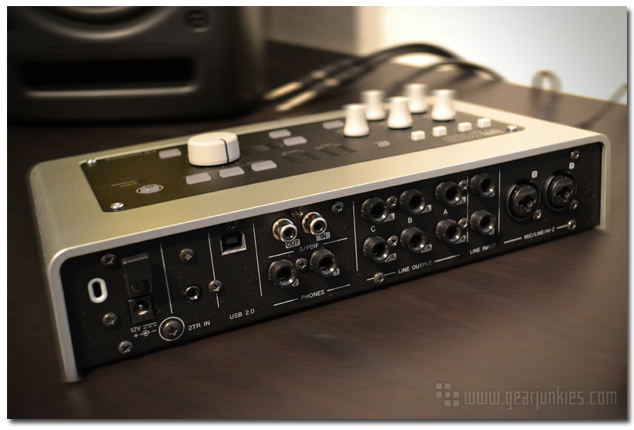 You can even connect three sets of monitors to this interface. All three can be operated with the usefull output selection buttons above the volume knob. All outputs can be combined using the supplied software. Very handy for 5.1. Surround Sound combinations.
Sound Quality
When I compare the UR28M to my own Apogee Duet, I don't notice any clear differences in sound. And to be honest I didn't expect that. The Steinberg interface has high quality AD/DA converters. Comparable with the ones used in high end audio interfaces. On the matter of latency same results. I didn't had any problems with that. Everything worked and functioned neatly and synchronised 'between the lines'.
Software
As said, Steinberg ships the UR28M with some handy software and plugins next to the regular installation software. The control panel is equipped with built-in DSP effects which can be set per channel. This way you could set a reverb on a channel you'r recording. The interface is shipped with a light version of Cubase (AI 6), so you can record and produce form the start. Plus you'll get some cool VST plugins that can be used with any DAW.
Verdict
If you are looking for an audio interface with a good price/quality ratio then you can't go much wrong with the Steinberg UR28M. Definitely for a medium user there are enough INs and OUTs to get around with. The interface is very easy to use and setting up and installation takes literally minutes. With a retail price of (around) 449 Euro this UR28M is a good choice for any (home) studio.
We like to thank Steinberg for their cooperation and for providing us with the review unit.