VoiceLive Play is a new take on a compact multi effects unit for singers, but it is also so much more. Obviously it is packed with TC-Helicon's pro-level effects tailored specifically for vocalists and state-of-the-art harmony processing yet it is in the details where 'Play' really shines. Basically, singers will be catered to as if a dedicated vocal producer was sitting inside the box, always ready to fulfill their every wish and follow their slightest move.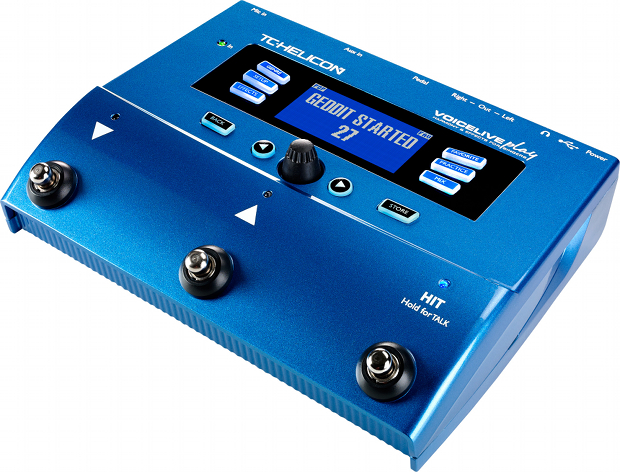 Search. Find. Play
Operating and navigating VoiceLive Play is a breeze. More than 200 amazing presets can be browsed either by genre or effect type. Many of the factory presets are designed to evoke a wide range of popular songs so singers can feel at home instantly – with more presets to download every month online. Every preset can be taken 'over the top' by stepping on the HIT button, which will add effects on top of the basic sound of each preset – perfect for making choruses stand out instantly! Also, selected presets can be stored as Favorites for super fast and easy access.
The Power of Practicing
The only way to really take it to the next level is by practicing, but that doesn't mean that it can't also be a lot of fun. VoiceLive Play has a dedicated Practice mode that analyzes singing performance in real-time. Detailed pitch statistics will help singers spot their strengths and point out areas that need more attention.
Singing along is another fun way of practicing, and VoiceLive Play accepts input from external audio sources such as iPods and computers via an AUX In connector or USB. To make it even more fun, VoiceLive Play has a Vocal Cancel feature that makes the performer's voice stand out over the vocal on the recording. Finally, VoiceLive Play can even listen to the recording and generate harmonies based on the chord progressions of the track.
The Power of Looping
VoiceLive Play is the perfect tool for adventurous singers eager to explore the exciting world of real-time looping. Loops can be created easily on the spot with or without effects, and by adding a TC-Helicon MP-75 microphone, the integrated Mic Control button can be used for full looping remote control.
Versatile Room Mics – A Good Set of Ears
VoiceLive Play has a built in microphone on each side panel, which can be used in several ways. For example, they can add a touch of room ambience that will make the voice more natural and comfortable when using headphones. The mics can also be used for picking up room sound and base the harmony processing on chords on an acoustic guitar or piano playing along for example. Alternatively, they could even be used for recording to a computer via USB.
In short, singers everywhere should prepare to fall in love with their voice!
VoiceLive Play Main Features
Complete Vocal Path – Tone, Harmony, HardTune, Reverb, Double and more
Auto Key Detection – Harmonies Can Follow your Favorite Songs
Practice Mode – Sing along and Analyze Vocal Performance
Tone – Global Adaptive EQ, Compression, De-ess, Gate and Pitch Correction
VLOOP Performance Looper with Undo/Redo
RoomSense Microphones for Auto Key, Monitoring, Practicing and Recording
Navigate Over 200 Presets by Genre or Effect with Favorites
Aux Input for Connecting an MP3 player.
Stereo XLR, Headphone and USB Stereo Outputs
Low-noise Mic Preamp with Phantom Power
Optional MP-75 Modern Performance Vocal Microphone with Mic Control
Preset Download and Management Using VoiceSupport and USB
Available: Winter 2012, price: USD 249.99 Estimated Price / EUR 249 SSP