Montonn Jira has more than one string to his bow. Actor, producer, engineer, DJ — name a field of work and he's probably involved in it. His strong connections to both USA and Thailand, which is where he currently resides, is evident in his music. His productions are melting pots of influences, giving his sound a distinct and refreshing character.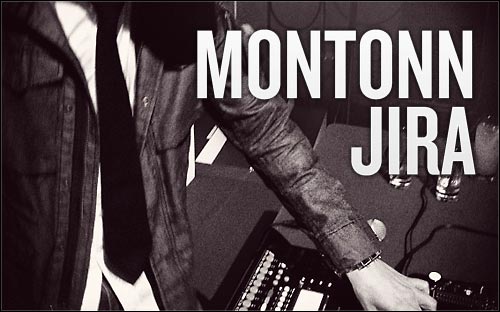 What were the most important things you learned from your studies of electronic music composition?
I think that taking into account the basic theoretic principles of music, and learning to leave them behind in the composition process was one of the most important things I learned from my studies of electronic music. It gave me the tools to compose in the traditional sense when I needed to, but when it came time to experiment, being able to "just do" and not think too much about it made the process much more enjoyable. Another important point learned was to realize that when the medium changes, so does the process, but ultimately, the finished piece needs to speak and stand on its own.
You have been active as a producer in both the USA and Thailand. Is there any differences in the reception of your music between the two countries?
Music audiences are very different in the cities of Bangkok, NY and LA. Obviously, starting out in Thailand, I've had the opportunity to build up a following and a fan base for myself not only through music, but through acting and other forms of entertainment as well. It can be quite confusing at times when you're not quite sure who your music fans are, and who are fans of your other work. I feel it's much more straightforward for me when working in the USA. The music fans are the music fans and they know me just as an artist and a producer. As far as the reception of the actual music, I think having a fan base allows me to reach a wider audience in Thailand, but appreciation for anything that strays too far from your standard commercial radio hit gets labeled 'too difficult' and is usually overlooked. It's a lot of work, but I'm slowly trying to expose locals to new sounds and genres by performing and releasing material that isn't typical of what is already available. It's usually hit or miss, but I feel like thats part of the fun.
How do you deconstruct your studio songs when you adapt them to a live format?
What I've done in the past was to bounce stems of separate parts down, usually sub grouping synth and fx parts and then having separate kick, clap, hat, and bass tracks, and then building from there. I've also tried cutting the track up into loops for more of a DJ style performance.
I just had a 2 hour performance where I was able to switch between live sequencing and DJ style mixing on the Octatrack and it was really interesting to be able to mix and match ideas.
Your sound is very diverse, how would you describe the core of your music?
It's quite difficult to describe. I've been exposed to such a diverse range of musical styles and am constantly working on so many different genres of music simultaneously that I don't really know how to describe the core of my music. One thing that remains constant, the simple fact that I strongly feel the need to enjoy the process of creating music no matter what it is I'm working on, and obviously, that the music needs to resonate with me before I can expect it to speak to anyone else.
With all the different styles of music that interest me, I've recently started making alias' for all of my own music projects, in hopes to allow fans to direct their attention to what they enjoy most. Hopefully it will start to clarify rather than confuse!
Visit the official Montonn Jira site