Based in the northern Japanese city of Sapporo in Hokkaido, O.N.O produces the tracks for hip-hop unit Tha Blue Herb. He is known for creating unique grooves with distinctive sampling treatments and complex beats. Besides being musically active as part of a group, he has released albums as a solo artist under the names of O.N.O and onomono, playing live shows using only hardware gear and appearing at numerous rock festivals and music events. Elektron caught up with O.N.O to interview him about his musical career, the equipment he uses, and what role Elektron machines play in his sound.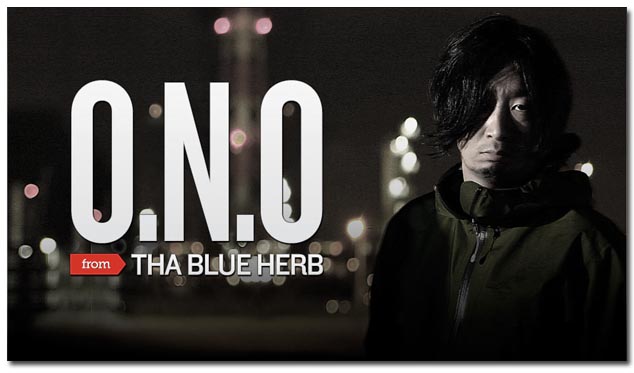 How do you normally approach making tracks?
— I usually start by making beats. However, I'm currently involved in three projects, and the process is different for each one. I use the Elektron machines most as O.N.O, creating rhythms and then laying in the bass. The important thing is how it grooves on the dance floor. When I'm making hip-hop tracks for Tha Blue Herb, I start with chords, and as onomono I do a minimal techno series.
What kind of music inspires you to make your own music?
— I like to make music by playing around with gear, so I don't listen to much music in the studio. Clubs are where I listen to music most, so I'm only listening to whatever the DJ is playing. This is why I haven't made many tracks that were inspired by other music. Usually, in the process of playing around with some new gear, I'll get inspired by the built-in sequencer, say, and make a track.
When is the best time to make music?
— I wake up very early in the morning, so I am at my studio around 4–5:00 AM. No phone calls, no deliveries—the morning is nice and quiet.
Creating music with hardware is a part of me.
What was the first synthesizer you bought?
— I was brought up on hip-hop, so from the start the sampler was my main piece of equipment. It's only relatively recently—in the last 10 years or so—that I started using synths. I bought a Monomachine, an MFB, a Juno 106 and some soft synths all around the same time, so I don't really have any particular synth that I can point at and say, "This was my first synth."
What kind of music did you make with your first sampler?
— The first sampler I used was an Akai, so the first music I made would be called hip-hop. At the time, the norm was to sample soul and rare groove tracks, but because I didn't really listen to black music, I was sampling different stuff, like tribal music. But while doing a lot of detailed editing for the tracks I was making, I started to think, "Hey, maybe it's faster if I just played the music myself."
You're well known for skillfully using a mix of hardware and software.
— I don't have any hard-and-fast ideas about where a sound should come from—it can be from hardware or software. But when I'm playing live, I definitely prefer hardware. Hardware creates more of a live feel. These days, young guys start off with laptops, and can use them very naturally. They may be totally comfortable with that, but I'm from a generation that started off with hardware machines: creating music using samplers and drum machines is a part of me.
When I play live, there's an interaction with the people on the floor, and that's why I think it would be interesting for people who usually use laptops live to bring a piece of hardware and play. Of course, there are people who can create a good live feel playing with a laptop, but personally I think it's fun to create music with hardware. For instance, I think it's really cool that a certain piece of gear, like a drum machine, is dedicated to doing just one thing.
On your album Signalog, there's a track I really like called Effekt. What equipment did you use for that?
— That one uses the Elektron Machinedrum and Monomachine. It came about from almost accidental stuff I made using the Monomachine effects and arpeggiator patterns. Ninety percent of the music on that album is at 110 BPM. It's neither fast nor slow, so tracks are both danceable and listenable, and what's more you can mix everything up.
During the 90s, I was mainly involved with Tha Blue Herb, putting out vinyl releases from our own label
Please tell us a little about your label, Tha Blue Herb Recordings.
— Tha Blue Herb Recordings is an active indie label based in Sapporo. It's mainly the three members of Tha Blue Herb—Ill-Bosstino, DJ Dye and myself—but there are various other artists and groups on the label too, releasing records as solo artists and collaborating with various units.
In the 90s, you were mainly involved with Tha Blue Herb. Can you tell us what the Japanese hip-hop scene was like at the time?
— At the time, the center of the hip-hop scene was Tokyo. Although we had formed the unit before that, our first vinyl release as Tha Blue Herb came in '97. At the time, there weren't many Japanese artists releasing stuff on vinyl—it was quite hard to get a vinyl release from an indie label at the time.
You work under two names: O.N.O and onomono . . .
— O.N.O's sound can be characterized as 110 BPM break-beats with a techno flavor, while onomono is more minimal with a tempo of around 125 BPM. With a BPM of 110, you can make break beats as well as straight four-on-the-floor stuff. It's a BPM you can dance to, and it's good for shifting gear 4/4 too. When things get faster than about 120, it creates a different feel. In a live situation, there are fewer fills. Fills make tracks more interesting because then they develop with a flow, so after a process of trial and error I arrived at a BPM of 110. Actually, it's a BPM that few other people seem to use. Being involved with Tha Blue Herb, some of my audience listen mostly to hip-hop, but I also get asked to play break beats and minimal, and this BPM is good for a variety of genres.
I heard a really cool remix by Mike Banks. How did that come about?
— When I was supporting Juan Atkins on his Japan tour, Mike Banks saw me live a few times; I got to know him a little and asked him to do the remix.
Playing live at the weekends all over the country, Machinedrum and sampler in hand
Which do you do more, play live or DJ?
— This is a common misunderstanding—actually, I don't DJ at all; I only play live. With two MPC1000s and a Machinedrum synced together, I play live on weekends all over the country. I have the two MPCs connected either side of the mixer, then the Machinedrum sitting over the top of the mixer.
What Elektron gear are you currently using?
— I use two Machinedrums, a Monomachine and an Octatrack, but the Machinedrum is my favorite. The more I use it, the more fun it is—I never get bored of it.
How do you connect the equipment?
— The core piece of equipment I use for making music is the MPC4000. Everything is connected to that via MIDI, including soft and hardware synths. I make rhythms separately: I make everything in the Machinedrum, then separate the kick and other drum parts and transfer about two bars into the sampler. In the sampler, I combine different mute groups, make breaks, and so on. Or sometimes, I'll transfer to the sampler the various parts of a break I'll make on the Machinedrum, and then shuffle them around in the sampler to remake them.
So you really use a lot of sampling.
— During the process of making a track, the melody changes quite a bit as stuff gets added to the sounds that are already synced. First, I'll make a phrase that becomes just a ghost track, and then as I continue sampling there will be stuff that gets used and other stuff that I don't use. Even when the mix is finished, if I think the kick is kind of weak, I'll go back and replace it.
The Machinedrum sequencer is great – it's very flexible and oftentimes I hit on cool stuff totally by accident!
What do you like most about Elektron?
— It's has to be the sequencer. When I buy a synth, it's often not for the sounds but because I want to use some other interesting feature it has. For example, the Machinedrum sequencer is fantastic. If you play around with it and make a track, you never end up with the same thing twice. Even doing detailed work in step mode, there's a high degree of freedom, and in the process you'll hit on some great phrase totally by accident. The Monomachine is also really fun, but some aspects of it are quite difficult. Maybe it's for people who either have a deep knowledge of synthesizer architecture, or have used a lot of different analog synths. But, I think the flexibility of its sequencer and arpeggiator is really immediate and a lot of fun.
Do you have any plans to play live abroad?
— No, not at the moment. But I think if you see my Machinelive under the O.N.O moniker, you'd agree that it could work well abroad, so I'd really like to play overseas at some point.
Any forthcoming releases planned?
— This year we plan to release up to the sixth onomono ep in the minimal series under the onomono name. I'm also thinking of putting together a live mix album with as many tracks as possible. And I'd definitely like you to come and see my Machinelive!
Do you have any advice for young artists?
— I think you really have to put in the time. Whatever method you use, to make good tracks you need to spend as much time as possible in front of your equipment. It's also important to enjoy yourself on the floor in clubs.