MOTU have just announced that they are now shipping the new Track16 Desktop Audio Interface, worldwide. Track16 is a 16 x 14 desktop studio interface with mixing and effects. Track16 connects via FireWire or hi-speed USB 2.0 to a Mac or PC computer and features elegant design, compact size, simple one-touch operation, and studio-grade sound quality. Together, the Track16 base unit and included breakout cable provide a total of sixteen inputs and fourteen outputs, hybrid FireWire/USB connectivity, optical digital I/O, MIDI I/O, and SMPTE time code sync. Advanced features include a 16-bus digital mixer (with reverb, EQ, and compression), audio analysis tools such as an FFT with spectrogram "waterfall", and an instrument tuner.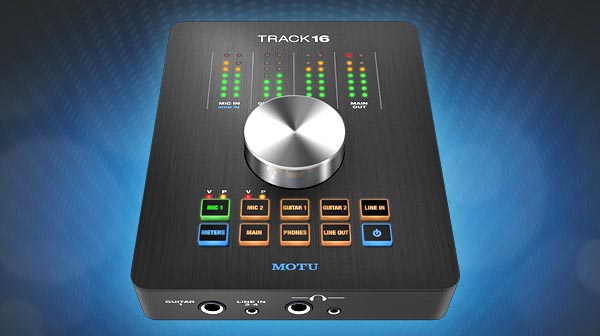 Elegant design
Simple operation, clean design, and studio-grade sound: Track16 exhibits these qualities throughout, from solid construction to pristine sound.
Astonishing I/O
Don't let its compact size deceive you. There's plenty of I/O available for a well-equipped personal studio, ready for recording sessions with multiple players.
One-touch control
Simply press the button for the channel you wish to control, and turn the knob. It's that simple. No fiddling with tiny displays. Just creative flow.
Studio-grade sound
Engineered with MOTU's award-winning technology, Track16 delivers the pristine quality and rock-solid performance MOTU interfaces are known for worldwide.
Many advanced extras
The engineering behind Track16 runs deep, to give your audio recordings the depth of quality they deserve.