The Kronos music workstation was unveiled in 2011 to critical acclaim, and the raves of players around the world asking "what can possibly follow this?!" In the year since its inception, KORG has continued to release system updates and additional Kronos Sound Libraries, bringing the Kronos to an even higher level of performance.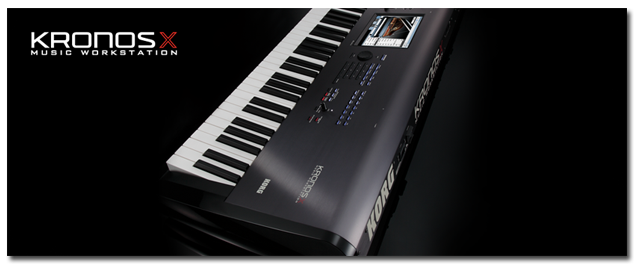 The Kronos continues its evolution with the new Kronos X Music Workstation. With a boost to the internal memory and SSD size, the Kronos X is the ultimate workstation. Fittingly, its new name adds an "X" to indicate its expanded, and truly limitless potential.
Nine Synthesizer Engines, United in One Instrument
Kronos X contains nine distinct synthesizer/sound engines. While each is worthy of a separate product in its own right, Kronos X brings them all together into a single, integrated musical instrument. Dynamic voice allocation and innovative technologies allow all sound engines to smoothly share a stable, enhanced hardware platform. The results are nothing less than spectacular.
A peerless synthesizer packed with nine sound engines including realistic piano, richly expressive electric piano, tonewheel organ, digital synthesis, and powerful analog/physical modeling, all in a single unit.
The Kronos X Music Workstation is the ultimate instrument for live performing musicians, for artists creating in a studio or computer-based production environment, and for musicians and sound designers seeking the ultimate synthesizer.

Kronos X Highlights
Peerless synthesizer containing nine sound engines, such as realistic piano, richly expressive electric piano, tonewheel organ, digital synthesis, and powerful analog/physical modeling.
Approximately 2GB of available PCM RAM allows more sample data to be loaded at once.
Doubled SSD capacity of 62 GB allows support for gigantic sound library expansions, such as the Kronos Sound Libraries and the KARO Sound Libraries.
User Sample Bank feature allows users to create extremely large sample libraries that take advantage of the generous PCM RAM and SSD capacity.
Numerous artist signature sounds created by top musicians are included, letting you make the sounds of classic songs your very own.
16-part Combis allow all engines to function together in perfect harmony;
Dynamic Voice Allocation keeps the polyphony high.
Use up to 16 premium-quality effects at once; individual effects rival dedicated units


12 Insert effects
2 Master effects
2 Total effects

On-board sequencer offers 16 MIDI tracks + 16 audio tracks (24-bit, 48kHz recording quality)
Open Sampling System – Instant sampling and resampling from any mode:
Program, Combination or Sequencer.
Sophisticated KARMA® technology generates infinitely variable performance-driven phrases, musical effects, and backing tracks to catalyze your creativity
Expanded Drum Track for play-along grooves and inspiration
Set List mode: Organize the Programs, Combis, and Songs you need to perform your set in a single, easy-to-select screen – including performance notes!
Smooth Sound Transition: this often-requested feature allows held or sustained notes to keep sounding when changing sounds or modes.
Direct support for playing drums and chords from Korg pad-equipped USB controllers, including the nanoPAD, nanoPAD2, padKONTROL; general support for all class-compliant USB controllers, including the Korg nano series and microKEY series
Support for the Kronos Editor and Plug-in Editor software
USB Ethernet adapter compatibility enables high-speed data communication between the Kronos X and your computer.
Available with 61, 73 or 88 keys
73 and 88 key models feature Korg's finest RH3 Graded Hammer Action.
Comprehensive interface, based around a large 8" TFT TouchView™ display.