Reloop is looking for THE Controllerism Newcomer 2012. Therefore they appeal for a worldwide Controller DJ Contest! This competition calls for innovation and creativity at the Reloop equipment's potentiometers and faders because the winner will receive a brand-new Reloop Terminal Mix 4 and the possibility to perform a showcase at Reloop's booth at the BPM Show 2012 in Birmingham including flight and hotel! The winner will spend two days with the Reloop crew & artists at the trade fair for DJs and producers in England, performing his show case in front of visitors, manufacturers and DJs at Reloop's booth.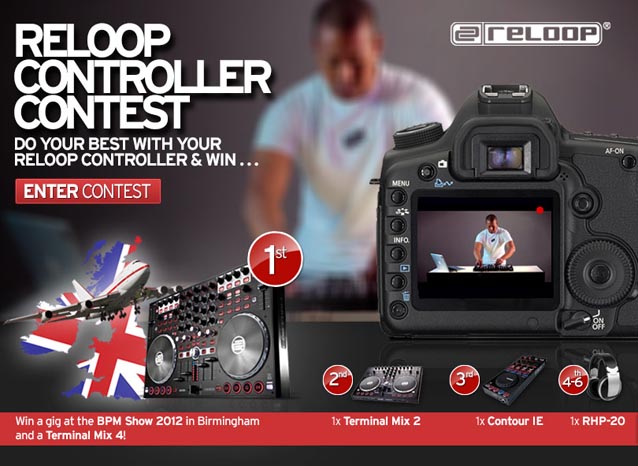 What to do?
Prepare for your showcase and record your skills on video. Introduce yourself before mashing the buttons and trigger pads and enthuse us! Music style and applied mixing techniques are your choice. The video should have a length of 2 – 5 minutes and has to be uploaded to your Youtube account. From July 15st – August 15st you can participate with your video at Reloop's Facebook profile's Controller DJ Contest site.
How can you win?
Visitors of our page determine the best 6 video clips. For you this means: Mobilise your fans and call attention to your upload! Every vote counts as this is a worldwide contest! After the closing date (August 15st, 2012) the Reloop artists and product experts will sit down, determining places 1 – 6.
The prices are as follows:
– 1st Place:
Two days with the Reloop Team at the BPM Show in Birmingham incl. flight and hotel as well as a Reloop Terminal Mix 4.
– 2nd Place:
1 x Reloop Terminal Mix 2
– 3rd Place:
1 x Reloop Contour Interface
– 4th – 6th Place:
A pair of Reloop RHP-20 headphones each.
Do you have further questions? Then contact them! Otherwise have fun preparing, Reloop are looking
forward to your video clip!