Yesterday we came across this news that surprised us, well just a bit. Why? Well, as we live in a time where, especially in the DJ market, devices are going completely digital, a company returns with a device that was on its way out the door. Audio Technica announced this week a new turntable, updated with the latest technology and USB, but still, a turntable. Of course this doesn't mean that turntables will make a 'comeback' in the DJ world but if you want to play with turntables at least you can buy them. Last year Technics stopped producing their SL-1200's completely, so if you want those you couldn't even buy them anymore.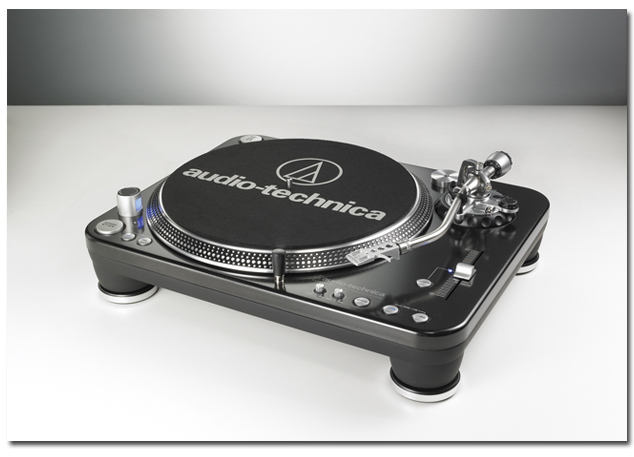 Audio-Technica has unveiled its new flagship turntable, the AT-LP1240USB, which offers a host of features that cater to the demands of both hi-fi connoisseurs and mobile and club DJs.
A direct-drive 16-pole, three phase motor ensures speed stability with easy back-cueing, forward and reverse play and quiet operation at 33-1/3, 45 or 78 RPM. The turntable features an S-shaped tone arm with adjustable tracking force and anti-skate adjustment and a removable universal cartridge mount. The tone arm has locking height adjustment to dial in the vertical tracking angle, crucial for achieving the most accurate record playback.
With a sleek gloss black and silver design, the AT-LP1240USB is ideal for any music or home entertainment system. A built-in switchable phono preamp allows use with a wide variety of receivers, powered speakers and other A/V components, while its USB output makes for easy connection to a computer without the need for any special drivers. The turntable is therefore perfect for transferring records to digital music files that can be played back on portable MP3 players including Apple's iPod, iPhone, iPad, in the car or at home.
In addition, the AT-LP1240USB boasts myriad DJ-friendly features including a damped cast aluminium platter with stroboscopic markings and slip mat, illuminated speed indicator and adjustable pitch control, start/stop button, a removable stylus target light, dedicated tone arm grounding lug, a hydraulically damped lift lever and locking tone arm rest.
The AT-LP1240USB comes bundled with PC and Mac compatible software, a USB cable, audio adaptor cables, removable dust cover, 45RPM adaptor, adjustable levelling feet and accessories. The supplied Audacity software offers simple digitisation of vinyl records and audio editing features including equalisation and click/noise removal.
The AT-LP1240USB carries a recommended retail price of £500 (inc VAT) / €500 (ex VAT) and will be available from September 2012 from a wide selection of hifi and electrical retailers as well as direct from Audio-Technica's e-commerce site – www.audiotechnicashop.com.
(Thanks to DJWORX.com for the heads-up)