The M-Patch V2 is a compact high quality passive attenuator and patch control device building on the success of the original and best selling M-Patch series of products.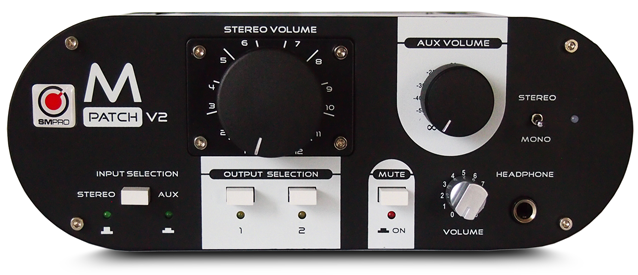 The M-Patch V2 offers a pure passive attenuator designed to retain sonic clarity and offer the purest path from your audio source to your active monitors or amplifiers. The result is clearer audio with more dynamic detail.
One of the most notable changes we have made with the M-Patch V2 is the replaceable encoder socket. The M-Patch V2 now ships with 2 replaceable encoders, one being an extremely detailed 12-step encoder.
Features:
shipping with two replaceable encoders

extremely accurate 12-step attenuation

Improved quality switches

Interchangeable Master Volume to a high end switch attenuator

Passive volume attenuation control

A/B multiple outputs

A & B output destination selector

Independent main & aux controls

Built in headphone amp

3.5mm input for soundcard matching

Balanced and unbalanced input (XLR, RCA)

Stereo/mono summing switch

Mute function switch

2 x stereo input sources

2 x stereo output

Rack mount adaptors included