Today MOTU released a driver update for all MOTU audio interfaces that enables wireless control of their on-board CueMix mixing features using an iPad. Now available as a free download, the latest CueMix FX software includes TouchOSC templates for Apple's iPad that give users complete control over the CueMix mixing and effects processing in their MOTU audio interface from anywhere in their home or studio Wi-Fi network. All CueMix-equipped MOTU interfaces are supported, including current and legacy models.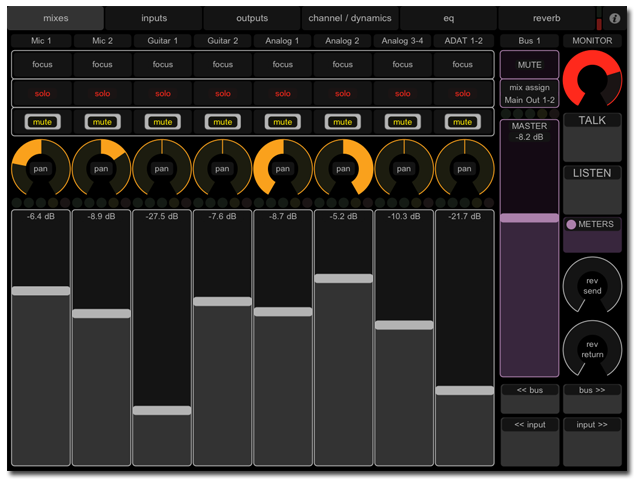 Wi-Fi control of MOTU studio mixing is here
The CueMix mixer in MOTU audio interfaces can be controlled from an iPad using an app called TouchOSC. Users can perform all CueMix mixing functions using on-screen faders, knobs, and buttons in TouchOSC. Communication is bi-directional, so any changes made on the computer screen will also be reflected on the iPad.
Support for Mac OS X and Windows 7
iPad control of CueMix FX is supported on both Mac OS X and Windows 7/Vista.
How it works
The CueMix FX (or CueMix DSP) mixer in MOTU audio interface hardware is controlled by the CueMix FX software running on a computer. The CueMix FX software is, in turn, controlled by TouchOSC running on an
iPad, which communicates wirelessly with the computer.
Open Sound Control (OSC) is a protocol for communication among computers, sound synthesizers, and other multimedia devices that is optimized for modern networking technology. TouchOSC, developed by hexler.net, is a customizable OSC and MIDI control surface app for the iPad. Available through the Apple App Store, it allows users to control applications on a Mac or PC over Wi-Fi.
MOTU has created custom TouchOSC iPad layouts for controlling CueMix FX. When loaded into TouchOSC, an iPad becomes a customized Wi-Fi control surface for CueMix FX.
The TouchOSC layouts, along with a required CueMix FX software update, are included in a new MOTU universal audio installer now available to all MOTU audio interface users as a free download here.
Supported MOTU audio interface models
The new CueMix FX Wi-Fi features support new and legacy MOTU interface models alike, including:
• Any "mk3" MOTU audio interface
• Any "mkII" MOTU audio interface (including the 896HD, UltraLite, and Traveler)
• 4pre
• Audio Express
• MicroBook
• MicroBook II
• PCI-424 core systems<
• Track16