Alesis, the world's leading manufacturer of instruments and tools for today's musician, has added two new models to their popular MultiMix Series of live and recording mixers. As the name suggests, the MultiMix 10 Wireless now features Bluetooth capabilities, and the MultiMix 16 USB FX now offers onboard effects.
"These mixers bring exciting new features to our popular MultiMix lineup," says Alesis Project Manager Walter Skorupski. "We are very pleased to add these models to the mix."

MultiMix 10 Wireless
The MultiMix 10 Wireless is a 10-channel, rack-mount mixer that is well suited to smaller clubs and venues, houses of worship, and traveling systems. Channels 1-4 are mono and offer both XLR mic inputs (selectable phantom power is provided) and balanced 1/4″ inputs. TRS inserts are also provided. Channels 5/6 and 7/8 are stereo-paired channels, offering left and right balanced 1/4″ ins. Channels 7/8 also offer a pair of stereo RCA inputs. Configured in stereo, Channels 9/10 are dedicated to receiving a stereo audio signal from any Bluetooth-enabled device. Simple, single-button front-panel pairing makes it easy. Each channel offers a peak LED, trim knob, 2-band EQ, pre and post sends, a pan knob, and a smooth-travelling 60mm fader.
On the back panel, the MultiMix 10 Wireless features 1/4″ aux sends and 1/4″ balanced stereo returns. The main stereo outs are 1/4″ balanced, and an additional set of 1/4″ stereo monitor outs are provided. Up on the front panel, the Master section includes additional easy-access XLR+1/4″ combo inputs for Channels 1 and 2 that override the respective rear inputs, making it easy to temporarily connect a microphone or other sound source without removing the mixer from the rack. An 1/8″ jack allows a non-Bluetooth source to access Channel 9. Located alongside the master fader, the twin 10-stage LED meters feature red peak indicators. A dedicated headphone jack is provided; the level is controlled by the monitor/phones knob. A very handy 1/8″ output provides the main mix directly from the front panel.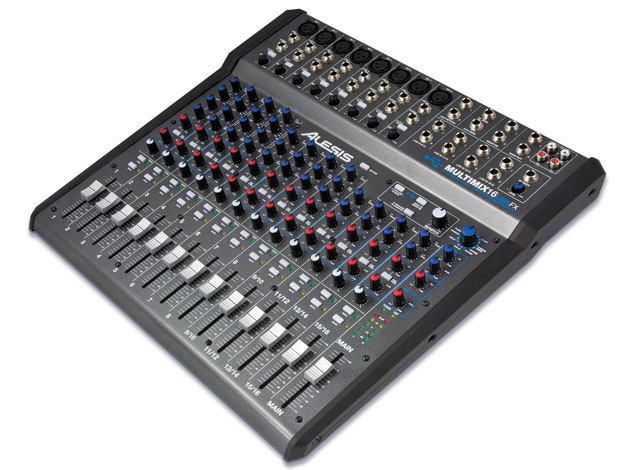 MultiMix 16 USB FX
The new MultiMix 16 USB FX performs double-duty as a versatile live and recording mixer and as a USB audio (16-bit, 44.1 or 48 kHz) interface for computer-based recording, even doing both at the same time. This class-compliant connection provides true plug-and-play connectivity with the computer and nearly any recording software.
The versatility of the MultiMix 16 USB FX is ideal for the performing musician with a home or project studio. The onboard processor (FX) offers 8 effect types, with individual sends on each channel. Eight mono channels include both 1/4″ and XLR inputs, with selectable phantom power. Four stereo-paired channels feature 1/4″ inputs. A direct guitar-level input is available on Channel 8. Each channel strip includes a multi-band EQ, sends, pan, and level control. Multi-stage LED metering, dedicated main and headphone outputs with individual levels, and two-track RCA tape ins and outs complete this multi-use mixer. Cubase LE6 is included.