Alesis announces their new Elevate 3 and Elevate 5 bi-amplified monitor speakers. Sold in pairs, these active monitors provide a smooth, rich sound in a space-saving format.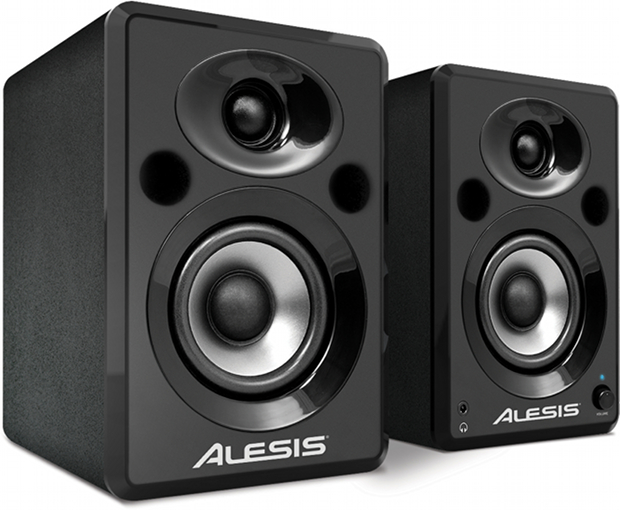 Ideal for multimedia, gaming, desktop audio, or for use with a mobile device, the Alesis Elevate Series combines technology borrowed from professional Alesis monitors along with advanced components to create a smooth, solid sound—without taking up valuable studio or setup space. The Elevate 3 and Elevate 5 provide thoughtful options for creating a custom listening environment.
"Our new Elevate series monitors have it all; they sound great, look great, AND they are easy on the wallet," says Alesis Project Manager Walter Skorupski. "We encourage you to stop by our booth at NAMM and hear them for yourself."
The front panel provides a convenient and easy-to-reach volume control. This control knob also serves as a power switch, paired with a blue LED indicator. Speaking of power, the Elevate 3 and Elevate 5 are equipped with an internal power supply, so there is no bulky external adapter. Left and right RCA inputs are located on the rear panel. An 1/8" stereo headphone output is provided on the front panel. The Elevate 3 provides 20 Watts of continuous power, or 10 Watts per speaker. The Elevate 5 delivers twice that amount at 40 Watts of continuous power, or 20 Watts per speaker.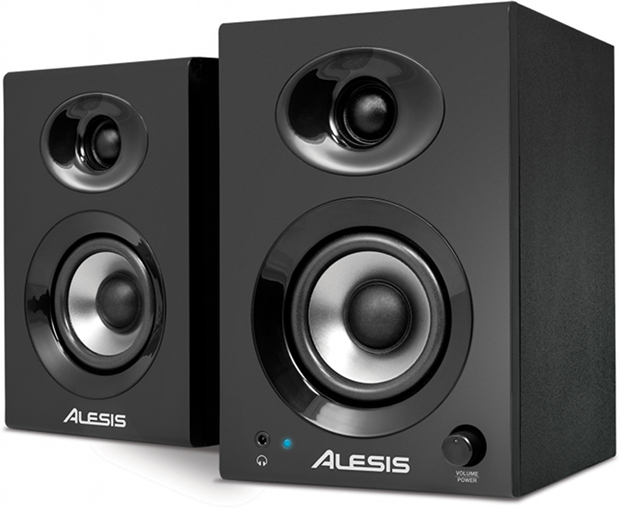 The Elevate 3 features a 3″ speaker for reproducing low-frequency sound. The Elevate 5 uses a larger 5″ speaker for enhanced bass. Both models are equipped with a 1″ soft- dome silk tweeter. This high-frequency driver is surrounded by an elliptical waveguide. This Directional Articulation technology creates a wider "sweet spot" for critical listening, while at the same time minimizing audio reflections from tabletops, etc. On the rear panel, there is a Bass Boost switch. The Elevate 3 includes an 1/8″ sub output for using the Elevate monitors with an external subwoofer to provide an enhanced low-end response.
The custom-designed, high-density wood cabinet delivers a full, warm sound. Bass porting provides an extended lowend. Radial-edge baffles reduce distortion-causing edge diffraction, keeping the sound clear. Magnetic shielding allows the Elevate 3 and Elevate 5 monitors to be safely used near sensitive video displays and other electronic equipment.