The most anticipated digital mixer of the year has arrived! Phonic announced the release of the IS16 digital mixing console, now shipping to distributors around the world. Production is still in full swing, having been stepped up after increased global demand. From this month on, retail outlets in all seven continents will be stocking this innovative new digital console.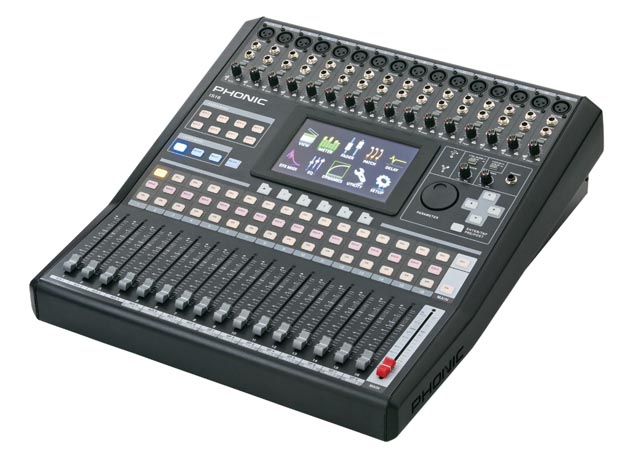 The full-featured 16 channel digital console boasts a flexible routing matrix with 8 multi outputs, stereo main output, and a flexible stereo monitoring mix, as well as multi-track FireWire/USB connectivity as standard. An expansion card, mREC, which allows for onboard multi-track recording is to be made available later in 2012. All of this combines to make the IS16 perfect for installation in your project studio or taking with you on the road.
Phonic released their first digital console, Summit, at the beginning of 2009. The unit received global critical acclaim from pro audio publications such as Recording, Keys and Mixdown Magazines. "The IS16 is the next logical step from that point," says lead product manager, Larry Lai. "We've revamped it visually, of course, but also worked closely with musicians and engineers to create an all new experience that will benefit them in the studio or on stage."
"The reception we received from the Summit was incredible," says Grant Murray, Phonic product marketing specialist, "but Phonic likes to stay on the cutting edge of innovation. With the IS16, we've incorporated a number of all new features that were designed to make operation even simpler and far more versatile."
A large, full color touchscreen is the centerpiece of the IS16. This allows all functions and settings to be easily accessed and monitored without any clunky menus or complicated directional controls. New to the IS16 is a VGA video output and USB mouse connector for the connection of external peripherals. View all IS16 menus on standard or high definition monitors and simply point-and-click to toggle buttons and enter menus. The mouse's scroll wheel can be used to control parameters faster than ever before.
And speaking of control, the IS16's brand new networking capabilities allow control of channel and auxiliary settings via wired and wireless networks. A full-screen HTML5 interface can be opened in the web browser of any PC, tablet or smartphone to allow adjustment of incoming levels and channel parameters through the network function. Phonic's UTD-10 USB wifi dongle for the IS16, previously touted as an optional accessory, will be included with the unit as standard.
Each channel of the IS16 is packed with features. 4-band parametric EQs and fully-loaded dynamic processors are plotted on interactive graphs for easy and convenient adjustment. The flexible delay function has time and distant parameter options for adding some attitude to guitars or for easy setup of live speakers. Routing channels is also a cinch, with every channel having the potential to be sent to the main mix, aux mixes, group mixes, and control room mix, all within a few clicks.
Digital effects are in abundance on the IS16 mixer. Two effect processors are available in total, the first of which features 24 reverb effects – each of which has a multitude of user-adjustable parameters for limitless effect potential. Both processors offer 9 popular effects, again with a multitude of parameters to get your sound just the way you want it. Each processor also has the potential to be used as a graphic equalizer, allowing 15- or 31-band GEQ control over audio – Perfect for live setups! An additional 31-band GEQ can furthermore be found on the main mix.
All these fine features can be found on the IS16 console from September onwards. Contact your local Phonic dealer today for information on availability and pricing, and see how the IS16 can enhance your setup today.