Following up on the stunning success of its StudioLive series digital mixers, PreSonus today introduced the StudioLive 32.4.2AI 32-channel performance and recording digital mixer.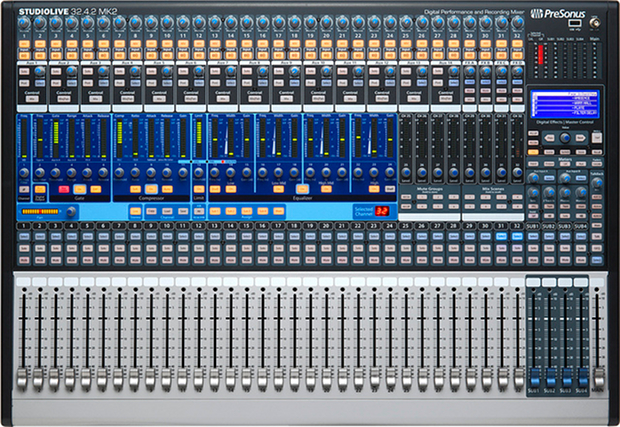 This new mixer features next-generation Active Integration technology, including a dual-core computing engine that packs over 64 times the processing power and an incredible 10,000 times more RAM than the previous top-of-the-line StudioLive 24.4.2. Its sophisticated, integral communications also makes possible wireless control of the mixer without requiring an external computer.
Featuring 32 Class A XMAX™ mic preamps with individually switched phantom power (plus an XMAX preamp for the Talkback input with always-on phantom), 32 line inputs, 14 aux mixes, 4 subgroups with variable output delay, Fat Channel dynamics processing and parametric EQ, a 48×34 FireWire S800 audio interface, and much more, StudioLive 32.4.2AI takes affordable digital mixing to a new level of sophistication.
Yet the new model retains the ease of use and fast workflow that helped make StudioLive mixers a worldwide success. All of the core mixing features are under your fingers, with no awkward bank switching.
StudioLive 32.4.2AI incorporates the same Fat Channel features as the award-winning StudioLive 24.4.2, including routing, panning, a high-pass filter and polarity reverse on every channel, and a full-feature gate, full-featured compressor, limiter, and 4-band fully parametric EQ on every channel, aux, subgroup, and effects bus. Taking advantage of the Active Integration engine's massive processing power, the new mixer allows users to create two complete sets of EQ and dynamics settings for a channel and then make quick A/B comparisons with the Alt EQ/Dyn button.
Also new in this model are six mute groups with All On/All Off switches and six user-assignable Quick Scene Recall buttons that let you load specified, saved mixer scenes-sort of a speed dial for mixer scenes. The StudioLive 32.4.2AI also sports four internal effects buses: two with reverb and two with delay effects.
Unlike previous models, the StudioLive 32.4.2AI sports an Ethernet port that allows you to connect to an existing router-based network with an Ethernet cable or completely wirelessly. You also get a USB 2.0 port to host the included USB Wi-Fi LAN adapter for situations where a less powerful, ad hoc Wi-Fi network is sufficient. Using either wireless connection, the mixer can be directly controlled from a laptop or iPad®, and the aux mixes can be controlled from an iPhone® or iPod touch®; a FireWire connection to a computer is not required.
A line of option cards will be available for the StudioLive 32.4.2AI in late 2013. Every option card comes equipped with dual FireWire S800 and S/PDIF stereo output, as well as Ethernet (for control only). Two cards that add Dante for audio networking and Thunderbolt for even faster digital transfers are in development.
StudioLive 32.4.2AI is tightly integrated with updated versions of the same powerful software suite introduced for the earlier StudioLive models: VSL-AI control/editor/librarian for Mac® and Windows®, SL Remote-AI wireless remote control for iPad, QMix™-AI wireless aux-mix control for iPhone/iPod touch, Capture™ 2.0 preconfigured audio-recording software, and the highly lauded Studio One® Artist DAW. This combination of hardware and software provides features offered by no other mixer anywhere near this price class.
The StudioLive 32.4.2AI digital mixer is expected to be available in April 2013, with an anticipated MSRP of $4,999 and MAP of $3,999.