Roland is pleased to announce the G-5A-CAR VG Stratocaster, a new addition to the acclaimed lineup of V-Guitar instruments. Manufactured in the Fender factory in Corona, CA, the G-5A-CAR is an authentic American Standard Stratocaster guitar with Roland's amazing COSM technology built in, providing players revolutionary tonal versatility in a top-level instrument.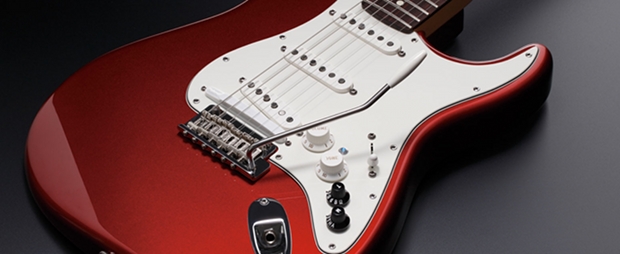 The G-5A-CAR represents the latest development in the ongoing partnership between Roland and Fender, which aims to enhance and expand the potential of the guitar through the seamless integration of familiar, world-class instrument design and leading-edge digital processing.
Fender's legendary American Standard Stratocaster is renowned among guitarists for its classic tone, impeccable playability, and quality U.S. craftsmanship. As an instrument, the G-5A-CAR is a genuine American Standard Strat in every way, from pickups to tone woods to hardware. It features a gorgeous Candy Apple Red finish, plus a 22-fret maple neck with rosewood fingerboard.
With its integrated COSM electronics, the G-5A-CAR gives guitarists an entire collection of world-class tones to pick and choose from, all in the same instrument. Using familiar Stratocaster controls, 20 COSM pickup and instrument tones are instantly available, plus alternate tunings and 12-string sounds. With the G-5A-CAR, guitarists can play a single instrument and change tones effortlessly, instead of having to switch out guitars every time they need a different sound or tuning.
The 20 COSM sounds onboard the G-5A-CAR include Fender Stratocaster, Telecaster®, humbucking, 12-string, acoustic models, and other unique, cutting-edge tones. A Mode knob selects one of five distinct modeling modes, while the Tuning knob allows players to apply alternate tunings such as open G, drop D, baritone, and others to any currently selected model. In addition, a digital reverb effect is available when an acoustic model is selected.
If desired, players can easily bypass the instrument's COSM section entirely, using the G-5A-CAR as a conventional Strat with its built-in single-coil pickups.
Distributed exclusively by Roland, the G-5A-CAR VG Stratocaster is a limited-edition model available at authorized V-Guitar Station dealers.
For more information, visit www.RolandConnect.com.