Roland is pleased to introduce the CD-2u SD/CD Recorder and SD-2u SD Recorder, two all-in-one portable recording devices. Both units record CD-quality audio to SD/SDHC cards, and include many useful features for music practice and education. The CD-2u offers identical features to the SD-2u, with the addition of CD burning/playback capability. Compact and ready to travel, the CD-2u and SD-2u are ideal for mobile audio recording, learning music and languages, and much more.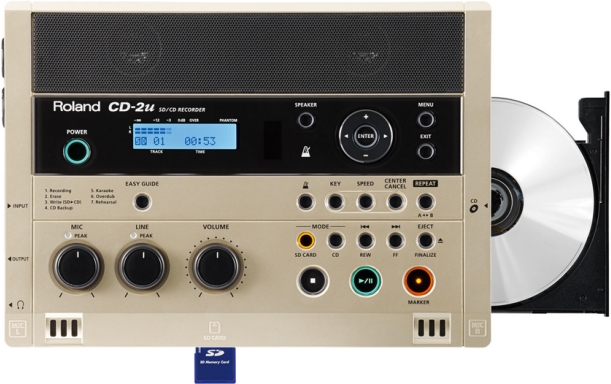 Both the CD-2u and SD-2u feature an integrated high-quality stereo microphone, making it easy to capture audio anywhere. Built-in, high-performance stereo speakers provide convenient sound playback of recordings, music, lesson material, and more.
The CD-2u and SD-2u also provide connections to integrate external devices for various applications. Two XLR/TRS combo jacks allow users to connect their own microphones, with phantom power available if needed. There's also a stereo mini-mic jack with Plug In Power, plus stereo RCA LINE IN jacks for connecting an instrument, music player, or other audio sources.
In addition to SD/SDHC recording, the CD-2u also offers recording direct to CD and CD-RW discs. Standard audio CDs can be played as well. This allows users to easily burn and play audio CDs anywhere without the need to use a computer.
Both recorders are equipped with powerful features for manipulating audio playback, providing useful tools for building music skills, learning languages, transcribing spoken-word audio, and more. Users can independently adjust the speed and pitch with exceptional audio quality, perfect for slowing down passages to learn difficult parts or changing the key of music to match a singer's vocal range.
An improved Center Cancel function removes vocals and solos from commercial songs, allowing users to create minus-one tracks for practice and karaoke fun. The newly developed Center Focus feature isolates center-located sounds in music tracks to make them easier to hear and learn.
Both recorders also feature practice essentials such as a chromatic tuner and metronome. A wireless remote control is included as well.
The CD-2u and SD-2u can be powered via the included AC adaptor, or with six AA batteries. AC power is required when using the CD-2u's CD recording and playback functions.
For more information, visit www.RolandConnect.com.