The Scarlett range of Focusrite USB audio interfaces gets extended with two new models, the 18i8 (18 in, 8 out) and the 6i6 (6-in, 6-out). Both are aimed at recording artists, producers and bands and differ primarily in their I/O configuration. Both feature award-winning Focusrite mic pres, designed specifically for Focusrite's computer music interfaces, and Focusrite's renowned precision 24bit/96KHz conversion for maximum transparency. In addition to Mac® or Windows® operation, both interfaces are compatible with iOS® devices like the iPad® (via an Apple iPad camera connection kit.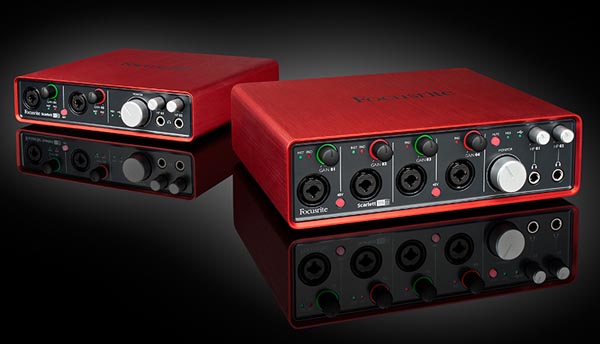 Scarlett 18i8
The Scarlett 18i8 is the first interface from Focusrite to include four award-winning mic preamps. It can also record up to four line inputs at the same time, making it perfect for recording an entire band live. An ADAT option allows the connection of external mic preamps such as the OctoPre Mk II, extending the number of mic pres to 12. The unit also includes S/PDIF I/O.
Scarlett 6i6
The Scarlett 6i6 is designed to allow recording on a smaller scale. In addition to two Focusrite mic preamps it features a stereo line input, making it possible to capture, for example, vocals, guitar and a digital piano at the same time. Both models feature the signature Scarlett range unibody metal chassis for road-ruggedness, and the unique 'signal halo' LED rings around the input controls that indicate green for a good level and red for overload. They also include two headphone outputs each with their own level controls; the headphone outputs on the 6i6 mirror the main and sub-outputs whereas on the 18i8 they are fully independent.
Availability and Pricing
Worldwide from June 2013
Scarlett 6i6 MSRP $299.99 / $249.99 at dealers
Scarlett 18i8 MSRP $449.99 / $349.99 at dealers
More details here.