Alex 'Cores' Hayes is a producer/engineer/writer based in London. He works closely with Professor Green and was executive producer of his two albums "Alive Till I'm Dead" and "At Your Inconvenience", which both went double gold in the UK. He also MD's Green's band. His involvement with Green has seen him work with the likes of Lily Allen, Example, Labrinth and Emeli Sandé. We recently visited his London studio to discuss one of his favourite pieces of kit; the Focusrite ISA 828 mic preamp.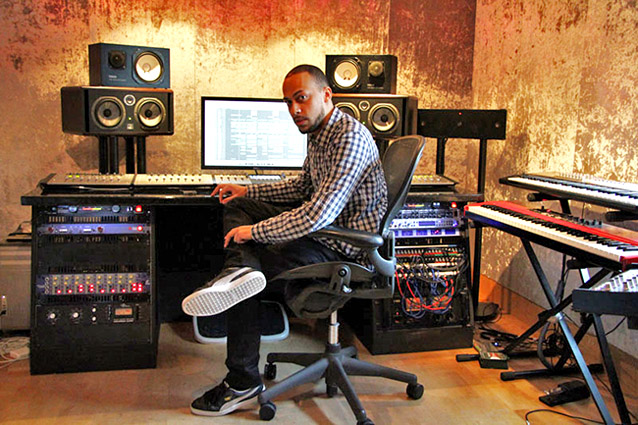 Focusrite ISA828
"First and foremost," says Cores, "I love the sound. Whenever I'm choosing a preamp or a mic for somebody, I don't just go for the thing that's supposed to be good, or that's supposed to be used. I'll make decisions based upon what I hear, and the context. The ISA is very clean, so I don't have to worry about it being overbearing on anything. It's clear and detailed, which is perfect for modern production."
When setting up his studio, Cores was very conscious of what gear he needed and what was unnecessary. One of his main decisions was to not have an analogue mixer. "I don't need one any more, as most of what I do is in the box. But I still need an analogue front end as I track a lot of live instruments and also need to accommodate anything my clients may bring with them. Everything has to be ready to go, so if, for example, I'm in a writing session, the focus can remain on making music. So to have eight channels of ISA preamp is perfect. I might have two mics up for an acoustic guitar, one for a vocal, an electric guitar going through the DI, someone's audio interface patched in… all up at the same time. It's great having that amount of flexibility in one box with no compromise. And the AD converter is great too; I connect the ISA 828 directly to a digital audio interface via ADAT. It's as good as any of the converters I've used anywhere else."
ISA PreAmps
Many of Professor Green's songs were recorded using Focusrite ISA preamps. The 828 is currently being used extensively for guitar and drum tracking on the forthcoming third album, and on the road Green uses an ISA One for his monitor mix.
Green's vocals are usually cut with a Neumann U87, U67, or sometimes a Shure SM7B, so Cores needs his mic pres to work on a variety of different mics. "You're talking about mics with a huge variation in the amount of gain you need to give them. The U87 is a sensitive mic, so I don't need to give it a whole lot, but if I were for example to put an SM7B through something that was more coloured than the ISA series, I'd have to give it a lot of gain and that would mean a lot of noise and a little bit too much harmonic distortion for some of the songs. So, having the option of a really clean preamp for a dynamic mic like an SM7B is great; I can give it as much gain as I want and I know I'm still going to be able to use it in the mix."