Music Computing releases ControlBLADE ES, a budget-friendly professional keyboard production station. ControlBLADE ES is an all-in-one music production station, which allows users to compose, record, and mix songs that are ready for radio or direct Internet distribution.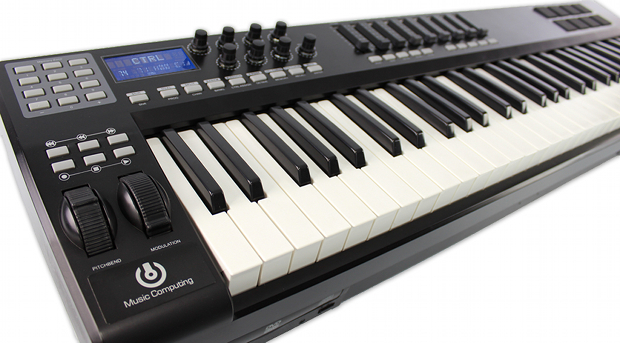 ControlBLADE ES
This keyboard is powered by high-performance computer cores utilizing an Intel® Dual-Core 2.6GHz third-generation (Ivy Bridge) processor that is perfect for today's demanding musicians and the virtual instruments and software applications they use. The Windows 7 (64-bit) operating system is preconfigured for music production and can run virtually any software application or plug-in and is ready to use right out of the box without any bloatware to uninstall. Run multiple plug-ins at once, record and sequence many audio and MIDI tracks simultaneously, and store millions of sound presets, the ControlBLADE ES packs a serious punch for the money.
"We designed the new ControlBLADE ES to allow virtually anyone on any budget to be able to produce radio-ready music." Said Victor Wong, CEO, Music Computing. "However, it is still by far more powerful than any other traditional keyboard workstation and can do much more for half the price."
The ControlBLADE ES is a 61-key model and comes standard with 4GB of RAM, which is upgradeable to 8GB, a 500GB 7200 rpms hard drive with upgrade options of 1TB, 2TB and 3TB, a DVD Burner, an external USB mini audio interface with 2ins and 2outs with various upgrade options, and bundled software including Windows 7 (64-bit) Home Premium OS, SonicSource Producer (8GB of VSTi sound presets), Audacity audio editor and recorder, and Tracktion audio production software.
The ControlBLADE ES provides two (2) video monitor ports, which can be connected to standard LCD / LED TVs, general purpose computer video screens or Music Computing MotionCOMMAND touchscreens. A one (1) year parts and labor warranty is provided as well as life-time support. Optional extended warranties are also available.
The ControlBLADE ES costs $999, more information can be found at: www.musiccomputing.com/controlblade.