TASCAM's DA-3000 is the new upgrade to the legendary DV-RA1000HD. The DA-3000 builds off of decades of experience, offers the same famous BurrBrown A/D converters, is armed with upgraded pres and packed into a sleeker, more modern design. This brand new high definition master recorder/ADDA converter takes the solid reputation of the DV-RA1000HD and adds to it, offering uncontended quality, versatility and innovation.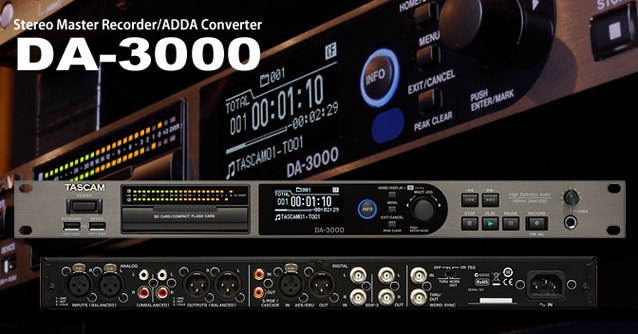 Fit for any size
The DA-3000 is designed to fit in any size recording studio, professional or home, for recording, mastering, broadcast, replacing a DAT machine or for audiophiles wanting to upgrade their files. This powerful recorder supports high sampling rates up to PCM 192 kHz and DSD 5.6MHz. One has the option of recording to SDHC and Compact Flash. The large bright LED level meters ensure its users that the audio being recorded is always set to the proper levels. It's high-precision TCXO, fan-less design ensure pristine audio quality and the dual monaural D/A converters for each channel help eliminate any possible interference.
Multiple units can be linked simultaneously for increased channel recording. Find on the rear of the unit, balanced XLR I/O, unbalanced RCA I/O along with digital audio I/F AES-EBU, S/PDIF for PCM and SDIF-3/DSD-raw for DSD. By incorporating TASCAM's new DA-3000 into any studio today, one will not only guarantee superior audio but also add a bit of legend to all recordings that pass through it.
Key DA-3000 features include:
Supports various media such as SDHC/CF(UDMA) and USB memory (*USB: for playback only)
High sampling rates up to PCM 192kHz, DSD 5.6MHz
High-quality OP-Amp (NE5532)
Optimum condensers for quality audio and high-spec resistors for low-noise, high-accuracy and high heat capacity
Clock frequency accuracy of 1ppm by TCXO
Crystal direct system for low-jitter
Cascade connection with sample level operation (Recording and Playback)
Input monitor function for DA conversion
XLR analog balanced I/O
RCA analog unbalanced I/O
RCA coaxial digital I/O (S/PDIF) for PCM
XLR digital I/O (AES/EBU) for PCM
BNC digital I/O (SDIF-3/DSD-raw) for DSD
Supports WORD IN/OUT/THRU (*OUT/THRU is exclusive by a switch)
Dual monaural D/A converter configured with ICs of BurrBrown's PCM1795 for each channel to eliminate channel interference
High-quality AD converter of BurrBrown's PCM4202
An EI-core power transformer with separated coils for digital and analog circuits
Easy to see large LED level meters (24 dots)
128 x 64 Dot Matrix OLED (organic light emitting display): Provides wide viewing angle and high visibility
1U compact size
* All specifications subject to change