At the coming AES New York, Bettermaker will show a new product that will complete their EQ range. The new ATM Bettermaker EQ542 is a stereo analog parametric equalizer with plugin recall in 500 format.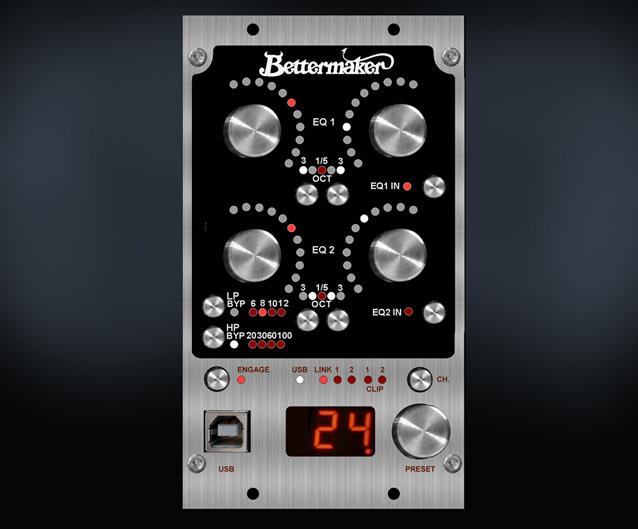 Plugin Recall
Besides their pure analog signal paths, these units have a full digital recall with 399 cells for your own presets, which you can recall with one touch. You can save your settings in the internal memory of the EQ's as well as in your DAW, AND … in your project with your AUTOMATION.
"By building these equalizers, Bettermaker wanted to create devices that would have a maximum range of usage and a very characteristic, but clean sound. We picked out the best classic designs and modified them to be more practical. As we work faster and faster every day, we need to have the highest quality and maximum speed we can get. That was the main motivation to develop the Bettermaker® EQ 542P.", according to Bettermaker.
Here are some of Bettermaker's® EQ 542 amazing features
Stereo Parametric section, two paramtric filters offered in combined, matched stereo.
High pass section, 24 dB/oct filter with selectable frequency
Low pass section, 12 dB/oct filter with selectable frequency
Full digital recall with 399 cells for your own presets.
USB link to use the EQ's just as you would use a plugin, including Automation.
Free AU, VST, RTAS, (AXX soon) 32 & 64 bit plugin controller
Steel screen isolators for maximum separation of digital and analog sections
You can connect up to 99 EQ542′s to one D.A.W. and control them with dedicated plugins.