Manley Labs, a privately owned company that designs, manufactures and distributes high-end analog audio equipment, announced a rebate program in the USA for their best selling audio products. The rebate is Manley's way of celebrating the 25th anniversary of their company that proudly manufactures all their products in the USA. The rebate began October 1 and be active thru December 31, 2013.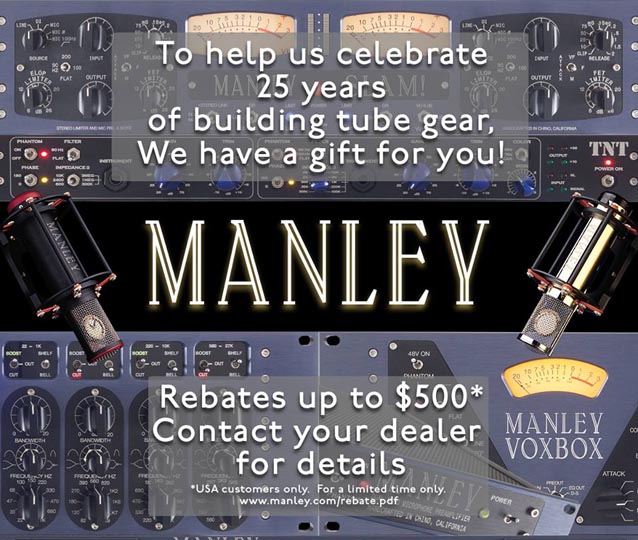 Manley Labs
Manley's first ever commercially available products were upper echelon high-fidelity vacuum tube amplifiers and preamplifiers constructed at the old Vacuum Tube Logic of America factory in 1988. Presently, Manley Labs' houses their own machine shop, audio transformer winding, and engraving. All custom design, R&D, assembly, testing and quality control processes are performed with precision and pride at the Manley factory, located just 35 miles east of Los Angeles.
"It was important to me to say 'thank you' to the loyal audio professionals that helped make this company a success," said Manley Labs President EveAnna Manley. "So we are offering a rebate on our most popular products for the last quarter of this year." She is proud that many of Manley Labs early customers, such as Engineer J.J. Blair, and Jackson Browne, are still loyal to the company a quarter of a century later. "The best way we can celebrate is to give back to our customers," she said.
"I invested in Manley power amps early on, and almost twenty years later, they still power my studio mains," said Engineer/Producer/Musician J.J. Blair, who's credits include Johnny Cash, June Carter Cash, Rod Stewart and The Who. "I also have a Variable Mu®, and a Gold Reference mic. The high quality and tube sound of these products ensures that I use them on almost every record I work on."
He goes on to praise the technical support and customer service of the company, revealing that EveAnna Manley often handles things personally. "The service is fantastic! I appreciate that Manley products are made in the USA, and can't wait for the new products in the pipeline."